by Steve MacNaull
Sometime between being shot out of the waterslide like a cannon ball and jumping off the top deck into shimmering Shuswap Lake, we declare houseboating our new favourite way to vacation.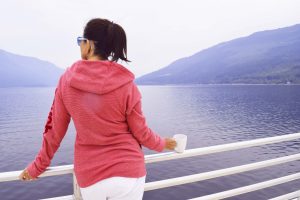 But, of course, there will also be simple lounging in the sunshine, awe-inspiring vistas around every bend, soaking in the top-deck hot tub, barbecuing on the front deck, outdoor showers on the back deck, wine at twilight and sleeping like a baby as the water gentle laps against the boat.
A
Waterway Houseboat
is like having a buoyant holiday headquarters, a massive luxury mobile hotel suite and a bobbing abode with the most incredible lake-and-mountain-and-blue-sky views.
My wife, Kerry, and I, along with our 15-year-old daughter, Grace, and her friend, Lauren, boarded our floating funhouse at Waterway Houseboats on Mara Lake in Sicamous, British Columbia.
From Waterway's headquarters it's a quick cruise through the narrows into Shuswap Lake, the houseboating capital of Canada for its calm, cobalt waters and 1,100 kilometres of shoreline on four watery arms that spread out like a claw.
We stick to the Salmon Arm, which is also the name of the Shuswap's main town, where we'll motor 14 kilometres to catch part of the Salmon Arm
Roots & Blues Festival.
We moor at Salmon Arm Wharf, a 15-minute walk from the fest site, and use our houseboat as a floating hotel.
It's such an inspired idea that Waterway and Roots & Blues have partnered to offer houseboat-and-fest packages starting with the August 16-19, 2018 fest.
It's the perfect way to pair the region's marquee music extravaganza with the region's marquee tourist attraction.
"Houseboat really is a unique holiday and mode of transporation," said Waterway operations manager Colleen Anderson.
"It's like luxury camping on the lake. You spend great bonding time with family and friends. Shuswap is custom-made for houseboats. The gradual, sandy shorelines allow you to nose your houseboat onto the beach and have a beach vacation too and head off into the woods and mountains to find waterfalls, hike and bike."
Yes, Waterway also rents all the toys to turn your houseboat into adventure central.
You can tote paddle boards, canoe and kayaks to get out on the water in smaller craft.
You can even tow a power boat so you can go waterskiing, wakeboarding or surfing or a pontoon boat for patio cruises.
The four of us feel indulgent on the air-conditioned Genesis 60 model we rented.
The four-level beauty has five bedrooms and two bathrooms and an open-concept living room with fireplace, indoor command centre to pilot the boat, kitchen with island and dishwasher and dining room.
Stairs off the front and back decks on the main level lead to the top deck with hot tub, wet bar with music system and outdoor command centre to pilot the boat.
It's also the perfect place to hop the railing and plunge into the lake with a smile, arms flung high.
Up further via a spiral staircase and we're on the sun deck and the entrance to the aforementioned corkscrew waterslide that shoots you off the back of the boat.
Waterway, which has a fleet of 60 houseboats of various sizes and styles, is celebrating its 50th anniversary this year.
Houseboats and houseboating have changed drastically since 1968, from basic floating trailers to amenity-laden vessels.
In fact, Waterway has two Legacy 94s, the largest and most impressive houseboat on any lake in British Columbia.
It measures 94 feet long by 24 feet wide, has 11 bedrooms, including king suite, a gourmet kitchen, massive living room and boardroom, so it can facilitate everything from a multi-generational-family or multi-friend romp, a wedding or corporate retreat.