From street food and casual dumplings to gourmet, the capital of Taiwan has it all.
Pilgrimage-worthy dumplings, hot-as-hell devil chicken, stinky tofu, elegant Peking duck, lobster in yellow sauce, oyster omelette, fish eggs fried rice, stir-fried cuttlefish, barbecued pork and cool mango ice.
Even with just 72-hours in Taipei, my wife and I manage to devour it all in a high-brow-low-brow culinary romp through the city.
Getting to the buzzy Taiwanese capital to dig into all these Asian delicacies is so much easier now with Air Canada's new non-stop flights between Vancouver and Taipei on the fast-and-comfortable Dreamliner 787-9.
Anxious to get to Taipei and its cuisine, we book the inaugural Vancouver-Taipei jaunt June 8.
There's a big party at the gate to send us off with Taiwanese folk dancers and, of course, a taste of the island's foods from chicken bites and pepper cakes to pineapple cake and bubble tea.
Once in Taipei our first stop has to be dumpling emporium Din Tai Fung.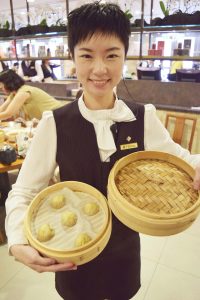 After all, The New York Times named the humble Din Tai Fung one of 10 restaurants around the world that inspire a pilgrimage in a 1993 article.
Hungry travellers did indeed pilgrimage and Din Tai Fung has rode the popularity growing from a single location to 136 outposts, mostly in Asia, but some in Australia and the U.S. as well.
We hone in on the chain's flagship 365-seat location at the base of Taipei 101, the 101-storey office building that used to be the world's tallest building.
We'd been told to arrive early for lunch, otherwise we'd have to wait an hour for a table.
So we're there at 11:20 a.m. with bells on and only have to wait 10 minutes.
At the centre of the vast eatery is the glassed-in kitchen where dozens of white-clad chefs are doing all the measuring, rolling, stuffing and steaming needed to churn out 15,000 dumplings a day.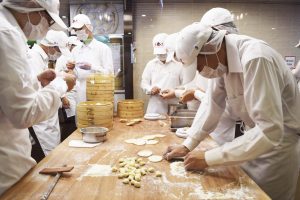 We'd also been told to order the signature xiaolongbao dumplings, which are made precisely with five grams of dough folded around a 16-gram filling of minced spiced pork and pinched closed with exactly 18 tiny folds.
When steamed, such exactitude results in a perfect little thin and delicate dumpling.
It tastes simply divine when dipped in equal parts soy sauce, rice wine vinegar and shredded ginger and washed down with some frosty Gold Medal Taiwan beer.
Since we're already there, after lunch we zoom up to the 89th floor observatory of bamboo-shaped Taipei 101 for the dizzying views of the sprawling city, Keelung River and leafy Elephant Mountain.
When Saturday rolls around, the in thing to do for dinner in Taipei is arrive hungry at the Shilin Night Market for an evening of street food and shopping.
With 539 food stalls, small shops and restaurants crammed into alleyways attracting a crowd that can only be assembled in Asia, this market is a spectacle of humanity, neon and odoriferous cooking.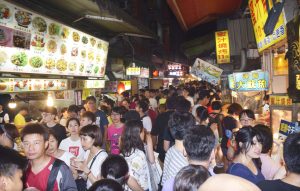 The devil chicken sounds dangerous, but cook Jason assures us it's delicious for Caucasians too if ordered mild.
We order it so, and it is indeed delicious, until even-the-mild, hot-as-hell spice kicks in and turns our lips into rings of fire.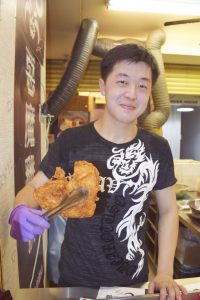 Something called stinky tofu is usually something we'd avoid like the plague, after all the name says it all.
But, we'd been told to try it because it's scrumptious and Taiwan's unofficial national dish.
At the Panda Yum stall we see they deep fry fermented tofu (thus the stink) and top it with picked vegetables.
The deep fry is supposed to dissipate the stink.
But it doesn't.
I get through half a bite and my wife doesn't even bother trying once she sees my reaction.
We end up at D'mall, a small restaurant at the market with some outdoor tables and a weird menu split between Italian and Taiwanese favourites.
The margherita pizza and cold Taiwan Classic beer is ordered.
From one extreme to another, our two other dinners in Taipei are high-end Cantonese feasts at hotel restaurants.
At the luxurious Mandarin Oriental hotel, steamed lobster from nearby Peng Su island is  mouth-watering in yellow wine sauce and the crab and onion cakes achieve food-art status for taste and presentation in a silver crab shell.
At the equally-opulent Shangri-La Far Eastern Plaza, where we're staying, we dine on delectable crispy-skinned Peking duck and fried tofu that is not stinky at Shang Palace restaurant.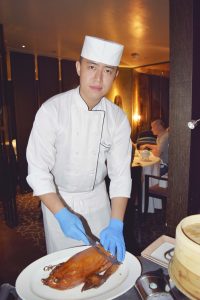 Our room on the 35th floor at the Shangri-La is lavishly-appointed with a fusion of Asian and Western furnishings and decor and the massive windows frame a magnificent view of the skyline-dominating Taipei 101.
The views of the 101-storey tower are similarly impressive when we splash in the 43rd-floor roof-top pool and eat breakfast in the 36th-floor Horizon Club restaurant.