By AJ Williams
The Highest, the Newest, the Largest, the Most Expensive, the Fastest….. all descriptions we heard on a recent Quick Trip to the middle east. Dubai's glittering skyline and high end shopping are omnipresent, but there's a contrast to this place that's not to be missed. It's a fact that the world's tallest building sits smack dab in the middle of downtown, and going to the top is an absolute must while in Dubai. But it's also true that there are architectural marvels that don't tower above the city – even the Metro is gleaming and modern!
The city is truly the playground of the rich and famous, rapidly becoming the 'Las Vegas of the Middle East.' But with apologies to Sin City, Dubai takes it all to a much newer (and dare I say classier) level! Dubai has over 3 million residents, but despite its size, it's clean, organized, virtually crime-free, easy to navigate and an urban planning marvel.
We decided on Dubai for an epic Mother-Daughter adventure, and it was a great choice. Flying on very chic Emirates Airlines made the 14 hour jaunt from Seattle to Dubai a breeze. Even in economy, the service, food & beverages are outstanding. An in-flight entertainment system with thousands of options helps the time pass quickly. For a real treat, upgrade to Business Class or better yet, First Class, where you'll enjoy a private cabin experience like none other.
With just 5 nights in Dubai, we hit the ground running for the 'musts' while there. Regular followers of our 'QuickTrips' know that we often do a 'Hop On, Hop Off' bus tour when visiting a new place. It's a great orientation to a city, and we found it a helpful way to start our Dubai adventure. Sitting up top in the air conditioned, covered section avoids a nasty sunburn on day one!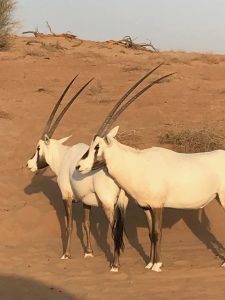 After getting our bearings, it was time for our afternoon & evening adventure – a desert safari. In a very comfortable Arabian Adventures LandCruiser, we made our way to a nearby nature conservation area, but before you think it was all just air-conditioned leisurely driving through the desert, not so fast. Once our tires were deflated to the acceptable level, we kicked into high gear (or probably low actually) and the hoots and hollers could be heard as we 4X4'd in the sand dunes – courtesy of our adept but daring driver!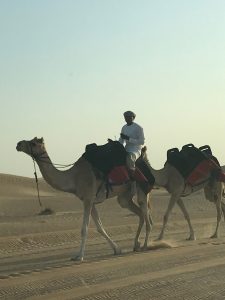 Afterwards, we climbed a dune to watch the sun set (spectacular) and then went to a traditional Bedouin campsite. Under the stars, we dined on traditional Arabian food (kebabs, lamb chops, fragrant rice, hummus and grilled vegetables), sipped tea and were entertained by a belly dancer.
Our evening was perfectly topped off with a camel ride and a nap in the car on the way back to our hotel. The perfect start to our visit!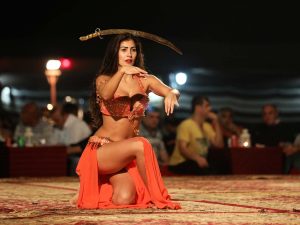 A surprise to us was the 'brunch culture' in Dubai. North Americans know 'Sunday Brunch', but it's often quite casual – as in pull on your yoga pants and go in search of an eggs benny somewhere. Not in Dubai. Here, it's a grand affair! Friday is brunch day in Dubai, and when visiting, splurge on a good one – we chose the Waldorf Astoria on the Palm Island. Their 'Secret Garden' brunch is an absolute event!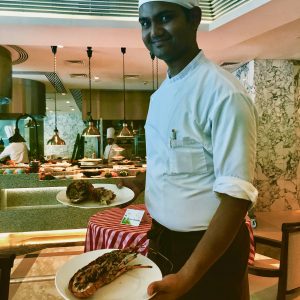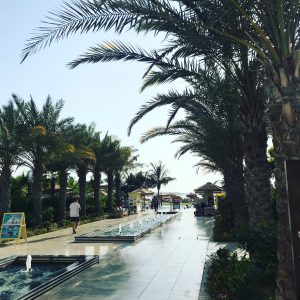 A hip DJ spinning tunes, a roaming saxophone player, the legendary Waldorf service – oh, and the food! Get out your finest (most folks really dress up for this occasion) and languish all afternoon as you savor every moment (and bite).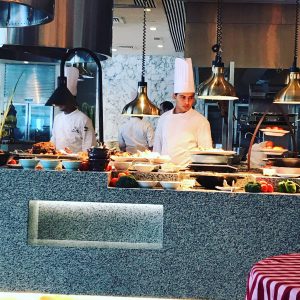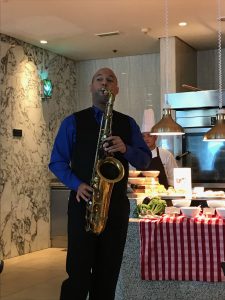 Afterwards, dinner was entirely unnecessary.
High Tea at the Burj Al Arab is another of life's little luxuries that must be experienced. The Burj Al Arab is one of the only 7-star hotels in the world.
Day 3 we were 'At the Top' of the world at the Burj Khalifa. A 60 second elevator ride had us at 452 meters high, and the skyscrapers that loomed large when we were at street level looked like bungalows. Be sure to catch the incredible water show down below also (it makes Bellagio in Vegas seem like a drinking fountain.)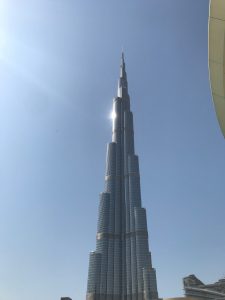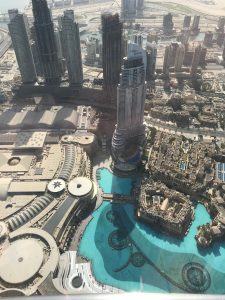 But – time for another contrast. After all of designer shops (and of course the indoor ski hill and ice rink) at the behemoth malls, we hopped the metro to 'old Dubai' to visit the traditional Gold and Spice Souks (markets). Whether you're looking for textiles, spices, nuts or gold, you'll find it all and more. Be prepared to fend off the zealous shopkeepers who try to beckon you into their stores. But, if you can't resist (and why should you?) you can haggle! Gold in the middle east is a bargain. The daily 'gram price' isn't negotiable, but the cost for craftsmanship is, so I recommend you check out the daily price of gold there, and you'll have a baseline. Say you're interested in a 10 gram set of gold earrings, and the day rate is $100/gram. Plan on $1000 to start. The 'sticker price' may be $2000 but the extra grand is for the worksmanship, and you could likely walk out with those for $1500, shaving off $500. Most pieces are 18, 21, 22 or even 24k gold. Want a more bespoke piece? They'll make it for you within a day or two – ready to tuck into your carry on before you head home!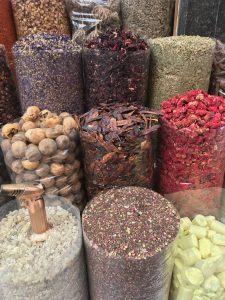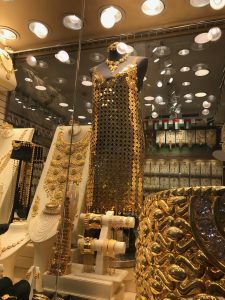 Our last day was spent in Abu Dhabi where you can visit theme parks, Ferrari World (if you're an F1 fan), the only Louvre outside Paris (masterfully architected surrounded by the turquoise waters of the Persian Gulf) and the Sheikh Zayed Mosque – it's four times the size of the Taj Mahal! Mosque visitors must dress appropriately (floor length, long-sleeved dress and head scarves for ladies, long pants and long sleeves for gentlemen.) The call to prayer is beautiful and you should allow enough time to soak up the magnitude of this house of worship. Indulge in lunch or dinner at the Emirates Palace hotel (one of the other 7-star hotels in the world).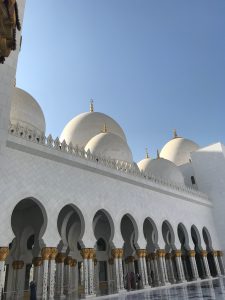 To balance out the culinary indulgences you'll devour while in Dubai, don't forget to check out another contrast: street food. You can find affordable, delicious Arabian food in several spots around town.
The UAE is full of contrasts, from high-end shopping to traditional haggling at the souks; High Tea at the Burj Al Arab to street food; Limo rides to the Metro; Towering buildings to neighborhood cafes – but be sure to experience it all – because Dubai really has something for every type of traveler. If you're looking for Eco Chic travel, ultra-luxury, a romantic getaway or epic family adventure, you'll find it in this incredible jewel in the middle east.
The Novotel was conveniently located near the Mall of the Emirates and the metro!
Emirates Air, headquartered in Dubai has a standard of luxury that makes the long flights simply a breeze!