By Steve MacNaull
Big Luck Master flits out of his cage toward me so I can lean in to  whisper in his ear.
I feel ridiculous communicating with a white java sparrow this way.  But, if I'm to have my fortune told Taipei-style I have to make a feathered friend.
>
We'd been told by David Wang, the assistant food and beverage  manager at the hotel where we're staying, the luxurious Shangri-La Far Eastern Plaza, that bird fortune telling is a must do in Taipei.
So this is how my wife and I find ourselves in a tiny cubicle in the underground shopping mall at the Longshan Temple subway station in the Taiwanese capital.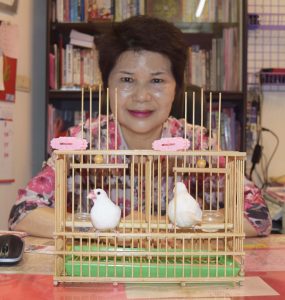 Fortune teller Miss Chen and her birds Big Luck Master and his sidekick, Big Fortune, are also there.
Apparently, it's simple to delve into the past, decipher the present and foretell the future using a charming bunjo bird in this ancient Chinese practice.  The cage housing Big Luck Master and Big Fortune is placed behind two decks of tarot cards, each containing 50 cards.
The doors to the cage are opened and I swoop in to state my full name and birth date to the first bird that hops out onto a deck, in this case the well-trained and willing Big Luck Master.  All the little bird has to do is pick three cards.  Big Luck Master takes his time.  He chirps, struts to show off his striking white plumage and carries on a shrilling conversation with Big Fortune.
Then, all of a sudden, Big Luck Master is pulling three tarot cards from the deck with his deft pink beak.
Card No. 18 first, then No. 4 and, finally, No. 8.
Big Luck Master returns to the perch in his cage and Miss Chen goes to work interpreting the cards through translator Rebecca Hung.  Supposedly Miss Chen doesn't speak a word of English, except to tell me I'm very handsome and my wife is very beautiful.  My fortune is a mixed bag. The first card indicates I've mostly led a charmed life.  The second taps into my current uncertainty and worries about the future.  And the third forecasts I'm going to have good luck moving forward.
Elated with the outcome, I gladly pay Miss Chen 1,200 Taiwanese dollars (the equivalent of about $60) and we depart to experience Taipei's other delights.
We eat our way through the city from street food (think stinky tofu and devil chicken) at the famous Shilin Night Market and casual dumplings at Din Tai Fong to gourmet Cantonese at hotel restaurants Shang Palace at the Shangri-La and Ya Ge at the Mandarin Oriental.
And, of course, we have to zoom up to the 89th floor observatory at the 101-storey bamboo-shaped Taipei 101 tower, formerly the tallest building in the world, for stunning views of the sprawling metropolis, Keelung River and leafy Elephant Mountain.
We also have spectacular views of Taipei 101 when we splash in the 43rd floor rooftop pool of the Shangri-La, from our well-appointed multi-windowed room on the 35th floor and while we eat in the Horizon Club restaurant on the 36th floor.
In fact, Taipei 101 so dominates the skyline it's always visible, whether we're shopping in Dihua, strolling Daan Park or checking out the Chang Kai-Shek and Sun Yai-Sen memorial halls.
This spring, Air Canada launched daily non-stop flights between  Vancouver and Taipei on its new Dreamliner 787-9, so the buzzy Asian capital is only an 11 hour flight from Vancouver, which is definitely the best spot to begin your adventure to Asia.
Check out Shangri-La and AirCanada.com.