By Steve MacNaull
As self-imposed exiles go, this one is exquisite, sexy, opulent  and indulgent.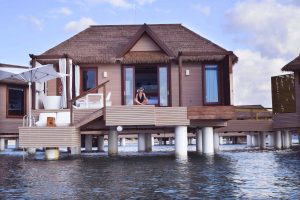 My wife, Kerry, and I are holed up in one of the new, sumptuous  over-the-water bungalow at Sandals South Coast Resort in Jamaica, and, we don't want to leave.
So, we don't.  We sequester ourselves in a four-day cocoon of over-water coupledom to celebrate our 25th wedding anniversary.
On the most-romantic day of exile, we wake when we want; have breakfast delivered and savour it suspended over the water on our back deck; lounge and read; swim; listen to some reggae as we lounge some more; have a swordfish-and-champagne lunch on the deck; swim again; nap in the rope hammock dangling over yet-more  water; rouse ourselves for additional champagne and a snack; sink into a sunset tropical-paradise-couples massage when the spa team arrives; and then cleanse in the outdoor shower and soaker tub before our private white-tablecloth dinner of mahi mahi, again perched on deck.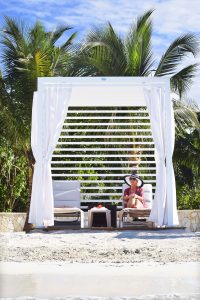 Of course, it's ridiculously over-the-top.  But, that's the point.  By the way, all this Olympic-level decadence wouldn't be possible without our tag-team of butlers, Alreian and Jermaine.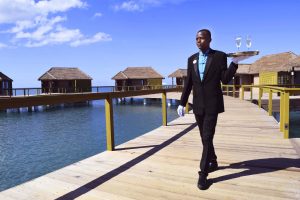 All over-the-water bungalows come with personal butlers to ensure all you have to do is bask in splendor.
Ask and they deliver; wish and they will grant; imagine and they  make it happen.  Besides the bespoke romance facilitation, the butlers are also masters at logistics.
They unpack for us, make restaurant reservations, arrange private car transport to and from the airport and even check the waterski boat is ready for us when we want to rip around the bay.
The Jamaica-based Sandals chain, which has stunning, five-diamond,  all-inclusive resorts across the Caribbean, is a romance specialist.  As such, they are the perfect place to wed, honeymoon, celebrate  an anniversary or, simply, time as a couple in the sun and sand.
While we'd have been quite happy in one of Sandals' regular, albeit lavish, suites, we decide to amp up our special occasion
and go over-the-water. Over-water is as exotically evocative as you imagine it to be, and  more.
The Tahitian islands, in the South Pacific, may be the birthplace  of such accommodation, but Sandals in the Caribbean has perfected it.  Sandals introduced its version in December 2016 with five over-the- water villas – think bungalows, with the added luxury of a private plunge pool – at its Royal Caribbean Resort across the island in Montego Bay.
A dozen over-the-water bungalows around a heart-shaped pier  followed at Royal Caribbean in March 2017 and nine more popped up at Sandals Grande St. Lucia in May 2017, before the 12 over-the- water bungalows, also in heart formation, made their debut at  Sandals South Coast.
When we do decide to emerge from our over-water exile, the resort has an exclusive, private cabana on the adjacent beach just for us, five pool complexes, six a-la-carte restaurants, wide swathes of white sand and included activities from the aforementioned waterskiing, scuba and snorkelling to sailing, beach volleyball  and carnival and reggae nights.
The only time we venture off the resort is to climb the spectacular nearby six-tiered YS waterfall with lifeguard-guide Norman Roberts.
We follow it up with a lunch of the best jerk chicken at YS Restaurant, which is really just a shack with a few picnic tables
and a hungry-looking dog lingering on the periphery.  Kerry is already plotting our return to celebrate anniversary No. 26.
Such extravagance doesn't come cheap.  All-inclusive flight-accommodation-food-drinks-and-activities packages with an over-the-water-bungalow run about $2,000US a night per couple.
Air Canada flies non-stop from Toronto, Montreal and Winnipeg to Montego Bay.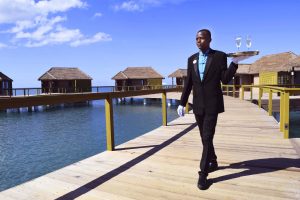 Check out Sandals.com and AirCanada.