By Steve MacNaull
More than 12,000 kilometers may sound like a long way to go for a night out.
But when that night out is to see Puccini's La boheme at the Sydney Opera House it's well worth it.
Of course, if you've made the long trip to Australia you might as well stay a few more days to cruise Sydney Harbour, swim and sun at Bondi Beach, pet a kangaroo, eat seafood and sip in the Hunter Valley wine region.
"It's pretty good down here, isn't it?" asked Capt. James Stewart rhetorically on the Magistic Cruise of Sydney Harbour.
"In just one hour on this boat you see everything Sydney is famous for – the ritziest houses (actors Nicole Kidman and Russell Crowe have places on the waterfront), Harbour Bridge and the opera house."
Ah, the opera house.
The modern abstract architectural wonder sits pride of place on Bennelong Point in Sydney Harbour with the city's downtown highrises as a backdrop.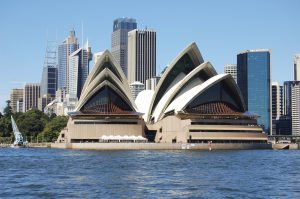 "It draws everyone in," said Stephen Jaques, who leads behind the scenes opera house tours.
"The exterior with its 10 sails is the most famous because everyone immediately is awed by it and can recognize it. We then hope those people come in for a tour or performance."
My wife and I took in an evening performance of La boheme in the 1,500-seat opera theatre.
Sydney accepts you as you are, so some came in tuxedos and gowns while others in shorts, t-shirts and flip flops.
While I'm not a big opera fan, I couldn't help but feel the buzz of attending an event in one of the world's most famous structures.
Paris has the Eiffel Tower, Rome the Colesseum and Sydney its opera house.
Even the intermission was special.
Champagne in hand we stepped out onto the opera house's terrace, which overlooks the harbour and the illuminated Harbour Bridge.
Sydney knows how to have a good time and the locals work hard and play harder.
The city hums day and night with people toiling away in the financial district, but spilling into the streets for coffee, lunch and after-work drinks that resemble huge outdoor cocktail parties.
Beaches are only a short distance away and the beauty of Sydney's Mediterranean-type climate is that they are usable year-round.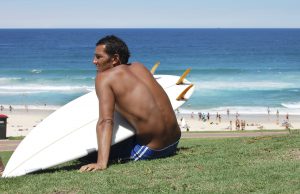 The most famous is Bondi Beach where hard-core surfers and relaxed swimmers and sunbathers co-exist nicely on the one kilometer crescent of sand and surf.
We stayed at the well-located Grace Hotel, a fully refurbished 382-room, 12-storey Art Deco building that's walking distance to Sydney Harbour's Circular Quay.
The quay is a magnet for not just tourists, but locals.
The opera house, of course, it the most sought-after site, but the quay is also lined with shops and restaurants and is home to the terminals for local transit and sightseeing ferries and huge cruise ships.
It's where we caught the harbour cruise and also picked up the 15-minute ferry to Taronga Zoo on the north shore.
The 30-hectare zoo features all the Australia-specific species such as kangaroos, koalas, dingos, wombats, Tasmanian devils and platapuses.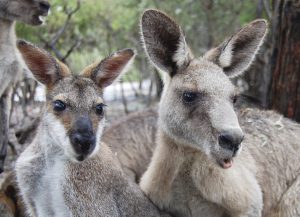 We couldn't help but pay the extra $19.95 to have our pictures taken with mom and baby koalas Felicity and Huxley.
We also got up close to koalas and kangaroos at the Australia Walkabout Wildlife Park, which is the first stop on Australian Eco Adventures' day trip to the Hunter Valley wine region.
The park has programs where you can feed and pet the kangaroos and have your photo taken with koalas.
The tour includes stops to taste at Brokenwood Winery, have lunch and do more tasting at the San Martino restaurant at Hunter Resort, have a sweet treat at Hunter Valley Chocolate and cap it off with more tasting at boutique winery Cooper.
Our most memorable meal was in The Summit revolving restaurant on the 47th floor of the Australia Square office tower.
Usually such places are to be avoided because they can get away with serving over-priced, sub-standard food while people enjoy the 360-degree views.
But The Summit delivered with exceptional food – kingfish for me, rack of lamb for my wife with a nice bottle of Tin Cows Pinot Noir from Australia's Victoria state.