By Steve MacNaull
Disneyland in California is marking its diamond anniversary with a year-long birthday party.
With the first chord of music, a hundred spotlights punctuate the sky and form a ginormous diamond high above.
Nothing less dramatic would do for Disneyland's diamond anniversary.
My 12-year-old daughter, Grace, and are standing in the dark with thousands of others as the theme park in Anaheim, California debuts its Disneyland Forever fireworks show.
Calling it a fireworks show is a bit of a misnomer.
It's really an integrated, multi-media nighttime spectacular with the iconic Sleeping Beauty Castle used as a projection screen for Disney movie snippets, while the accompanying music blares and choreographed light show and fireworks explode simultaneously.
The 14-minute show is a tribute to the company's greatest hits,from oldies such as Mary Poppins and Jungle Book, to more recent hits like Finding Nemo and Frozen, and, of course, Disney's main man, Mickey Mouse.
The occasion is Disneyland's 60th birthday.
My daughter and I feel like the most VIP of VIPs at this diamond-themed bash.
Not only are we treated to the amped up fireworks, but we are  mesmerized as the new Paint the Night parade rolled by just minutes earlier complete with Disney dancers, characters and floats festooned with 1.5 million multi-coloured LED lights.
There's also the new World of Color nighttime waterworks, music and light extravaganza at adjacent Disney California Adventure Park.
Unlike most birthday parties, which only see a day of celebration, this Disney trifecta will be repeated every night for the next year.
This is where Disney excels, in making people feel special, emotional, nostalgic and entertained, all at the same time.
Turning a birthday into a 365-day milestone is genius.
It gives Disney the chance to shine and escalate the party goer count to upwards of 20 million over the year.
"The Happiest Place on Earth just became a little happier," said Bob Iger, the CEO of the Walt Disney Company, while kicking off the diamond jubilee.
"Walt would be so proud," said Disneyland vice-president Mary Niven.
"These 60th birthday celebrations are a nod to the past, but also push imagination and innovation."
It's hard to believe in 1955 a former orange grove in Southern California would be transformed into the planet's most famous theme park.
Not only has Disneyland expanded, improved and set trends over the decades, it spawned Disney World in Florida in 1971 and Disneylands in Paris, Tokyo and Hong Kong and, next year, Shanghai.
The party doesn't stop with the three nighttime shows.
The diamond theme is everywhere.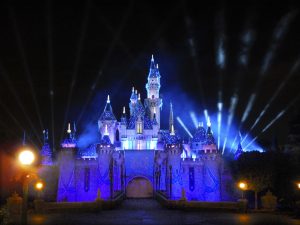 Sleeping Beauty's Castle is blinged out day and night and rides like the Matterhorn roller coaster, Peter Pan's Flight and Haunted Mansion have been revamped.
It's an excuse to introduce more than 500 diamond-inspired pieces of merchandise from bedazzled Mickey Mouse ears hats for $18 to a real-diamond-and-sapphire castle necklace for $4,800.
There's also anniversary food, from cupcakes and cookies to chocolates and rice crisp squares.
Of course, all the amusement park favourites that keep us coming back to Disneyland are still around.
As such, my daughter and I go on a thrill-ride blitz.
There's nothing like the corkscrew of the California Screamin' roller coaster; the elevator-drop screamfest of Tower of Terror; the swinging Mickey's Fun Wheel ferris wheel; mountain madness roller coaster fun on Matterhorn; space ship chase Star Tours; hurling through the pitch black on Space Mountain; and being out-of-control on Thunder Mountain Railroad.
We stayed at the luxurious Grand Californian Hotel, which is right on the Disneyland grounds, for handy access to the theme park, day and night.
Check out
Disneyland.com
.