Halle is a professional cuddler…
By: Steve MacNaull
This little two-and-a-half-year-old koala has my daughter, Grace, in a eucalyptus-scented embrace.
Grace smiles and snuggles and Halle half closes her eyes.  Rather than contentment with this human interaction, Halle may just be tired.  After all, koalas are notorious slackers.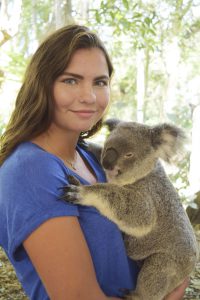 These Australian marsupials munch on eucalyptus leaves, their sole diet, for four hours a day and sleep 20.
My wife and I and our daughter are at Lone Pine Koala Sanctuary in Brisbane having the quintessential Australian experience.  Lone Pine is one of the only places in the country you can hold and pet koalas, so we're taking full advantage.  We each take our turn at the hugs, photos are taken and Grace even snaps a selfie with Halle.
By the way, this cutie is named after actress Halle Berry.  "She's our little Bond Girl," says koala handler Alyson.
"Halle's a complete sweetheart until she's hungry and then it's all Jekyll and Hyde."
Koalas at Lone Pine only work with the public for 30 minutes a day and get every fourth day off.
The sanctuary is also where we pat and feed kangaroos and wallabies and check out the dingos, wombats and Tasmanian devils.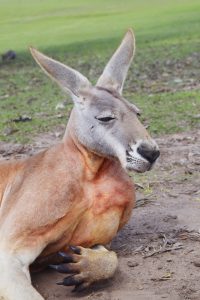 We've arrived in Australia on Air Canada's new daily non-stop Vancouver-Brisbane flight.
It's worth splurging for business-class lie-down seats on the Dreamliner 787 to arrive after the 14-hour flight refreshed and ready to take in Oz full-tilt.
"Australia is definitely a hot, upcoming destination for Canadian families driven by Air Canada's non-stops from Vancouver to both Brisbane and Sydney," says Nuno Guerreiro, the Canada area manager for Booking.com.
We found Mantra on Edward, a wonderful centrally-located apartment-hotel on the accommodations website.
"Apartment-hotels are the best of both worlds," says Guerreiro. "You get the privacy and space of an apartment with  hotel amenities like a 24-hour front desk and pool."
Australia is a once-in-a-lifetime journey for my family, so we dive in head first.  We love that Brisbane considers itself a big country town instead of the cosmopolitan metropolis of two-and-a-half million it is.
As such, everyone makes eye contact and smiles and locals offer help unsolicited when we look perplexed over a map or ferry schedule.  The city is located on the meandering Brisbane River and virtually everything is water-oriented.
We ride the CityCat and CityHopper ferries, which are part of the public transit system, to take in Brisbane's greatest hits and figure out where we need to return.
As such, we book Kangaroo Segway Tours, Riverlife rappelling down Kangaroo Cliffs and the Story Bridge Adventure Climb.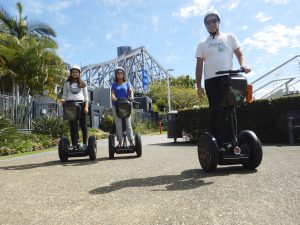 Brisbanites love to be active and enjoy the sub-tropical climate, and it rubs off on tourists.
On segways with guide Kevin Evans we glide over 22 kilometres of riverside trails through the Southbank cultural and entertainment district, the rainforest in the City Botanic Gardens, along restaurant-laden Eagle Street Pier, across Story Bridge, up to Kangaroo Point Lookout and over the pedestrianized Goodwill and Kurilpa bridges.
The segway romp whets our appetites for returns to Story Bridge and Kangaroo Point.
Outfitted in blue-and-grey jumpsuits we ascend and descend 1,138 stairs on the bridge, culimating in an aerially-amazing summit on the top span 80 metres above the river for an exhilerating view of the Brisbane skyline.
My daughter and I are pumped, my wife terrified.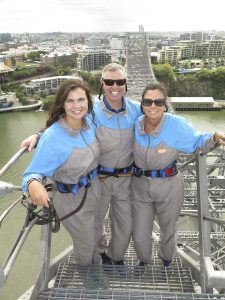 As a result my wife opts out of the next day's rappelling off Kangaroo Cliffs.
So, Grace and I climb the 107 steps to the clifftop, hook our harnesses to the safety ropes and hang over the edge backward, defying gravity.
The Aussies call it abseiling, and whatever you label it, it's a blast walking backwards and bouncing down the cliff.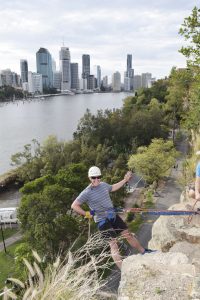 With a week in Brisbane there's also time for a daytrip to Noosa and the beach on the Sunshine Coast with Q Tour and a jaunt to Mt. Coot-tha Summit to say goodbye to the city while searing the spectacular view into our memories.
Check out AirCanada.com and Booking.com.