By Steve MacNaull
My 23-year-old son Alex won't travel with me anymore unless the destination is 'epic'.
Peru's Machu Picchu obviously qualifies as Alex is more than happy to tag along on what he cringes when I call it a father-and-son trip of a lifetime.
But it is the trip of a lifetime.
Machu Picchu is one of the most instantly recognizable and visited places on earth; it's one of the New Seven Wonders of the World; a UNESCO World Heritage Site; and a heck of place to do some father-and-son bonding (again a cringe from Alex).
In fact, on the journey, Alex and I spend more time together, talk, laugh and experience more in six days than we have in the entire three months prior he's been at home for the summer from university.
In what might seen like an odd choice for a dad and his 23-year-old, we do this with Adventures by Disney.
Now don't get Adventures by Disney mixed up with the Disneyland and Disney World concepts of rides and posing with Mickey and Minnie Mouse.
It's a family-friendly group tour company that packages up bucket list itineraries around the globe utilizing the quality 'Disney Difference', according to Kitty Phillips of Disney Destinations.
"Adventures by Disney groups are always small and have two guides, one from the U.S. and one local expert," she explains.
"We also go the greatest places, stay in the best hotels, take care of all the logistics for you and by special arrangement by-pass all the lineups. It's like your own personal Fast Pass around the world (in reference to Disney's line by-passing Fast Pass system at its amusement parks).
By the way, Adventures by Disney also does tours of Egypt and the Great Pyramids, safari in South Africa, Australia, Ecuador and the Galapogas Islands and Cambodia, Vietnam & Laos.
Now back to Machu Picchu.
It comes on day five of our six day trip so that it arrives like a crescendo after a long tension-filled build up by both the tour guides and the amongst-the-group chat.
"You are so lucky to be going here," says guide Ernesto Ore by way of understatement.
"Machu Picchu is a pilgrimage—a spiritual journey—that most Peruvians only do once in their lifetime."
Fellow guide Rudy Chalco is less heavy when he tells us he calls it 'Machu Picture' because it's one of the most photographed places in the universe.
We've already heard all the Machu Picchu facts and figures: Built around 1440 as a showpiece Inca royal city in the Andes Mountains with religious, agricultural and astronomical importance, it was abandoned for unknown reasons around 1530 and forgotten until explorer Hiram Bingham discovered it again in 1911.
The jungle was cut back to reveal well-preserved ruins with agricultural terraces, food warehouses, temples, plazas and homes.
The Machu Picchu ruins lay on the valley floor with the distinctive twin peaks hovering in the background punctuating the view.
Initially we're speechless and then the fawning starts.

To start with it's unoriginal 'wows' and then we start articulating that it's exactly how we imagined it or it's not at all how we pictured it.
The quintessential Machu Picchu view is right there so everyone poses for their marquee photos.
For the rest of the day we wander the ruins, complete with roaming llamas making cameos, and hike part of the Inca Trail to Sun Gate enjoying the spectacle and the sunshine.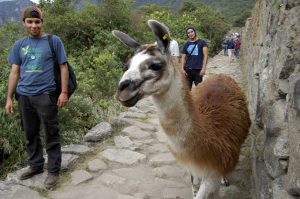 We don't even mind when the Andes' notoriously fickle weather sees the clouds roll in in the late afternoon and it rains a little.
Precipitation is seen as a blessing of the gods.
Machu Picchu is at a relatively low (Andes-speaking) 8,000 foot elevation (2,438 metres).
At certain points on our itinerary we're as high as 12,500 feet (3,810 metres).
While we've heard a lot about altitude sickness (dizziness, headache, stomach upset and worse) we avoid it by drinking coca tea, lots of water, eating and drinking alcohol lightly and getting lots of rest.
Machu Picchu is certainly the highlight of a trip to Peru, but there's lots more to do.

So we white water raft on the Urubamba River; check out the wares at the Centre for Traditional Textiles; visit other Inca ruins; watch Peruvian dance and Paso horse shows; and eat and drink our way through Peruvian cuisine ranging from ceviche (raw fish salad) and alpaca stir fry to fresh white wines and pisco sour (the local liquor mixed with lime juice, egg whites and sugar).