By Steve MacNaull
Ra Ra Rasputin
Lover of the Russian queen
Ra Ra Rasputin
Russia's greatest love machine
I can't get the chorus to this 1978 disco hit by Boney M out of my head.
After all, my wife and I and our 12-year-old daughter are on a canal boat in St. Petersburg,
Russia hearing the rumours about Grigori Rasputin and the gory details of his tough-to-pull-off execution.
We've arrived in St. Petersburg on a Disney Cruise Line Baltic Sea itinerary and immediately signed up for the Spilled Blood excursion.
The gruesome title comes from the featured stop at at the quintessential Russian Orthodox onion-domed cathedral called the Church of Our Saviour on the Spilled Blood.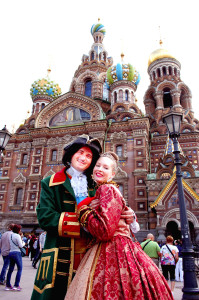 This place of worship, which is now more of a museum and tourist trap, is so named because it's built on the site where Emperor Alexander II's blood was spilled in 1881 when Peoples' Will terrorists tossed two bombs stuffed in loaves of bread into his passing carriage.
Outside the church we run into two elaborately-costumed actors playing Peter the Great, the czar who founded St. Petersburg in 1703, and his queen Catherine.
They'll only talk to us and pose for pictures after we cough up 200 rubles, the equivalent of $4.
While Alexander II may get top billing on the tour, the tale of Rasputin is what puts tourists on the edge of their seats.
"Poisoned, shot and thrown in the river," said guide Elena Streltsova bluntly in her Russian accent when summing up how Rasputin came to his untimely end in 1916.
He's become such a notorious historical character no one ever calls him by his first name, Grigori.
Rasputin, a mere peasant, was considered by many a royalists to be getting too cozy with Czar Nicholas II's wife, Alexandra.
So, wealthy royalist Felix Yusupov invited Rasputin over for a bite to eat with the plan of poisoning him.
When the cyanide in his wine and cakes didn't work, he was shot in the basement, which also didn't finish the job.
After he stumbled up to the courtyard he was finally fatally shot and his body was tossed into the Neva River to be washed out to the ocean never to be seen again.
Instead, Russia's greatest love machine's fur coat snagged on the ice and he was discovered the next morning.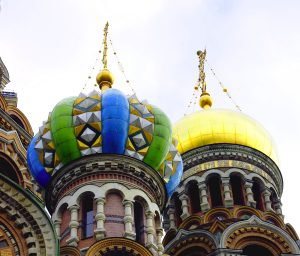 But there's more gore.
While on the picturesque Fountain River passing the stately School of Military Engineers, we hear the building was the home of Czar Paul I for just 40 days before he as murdered by conspiring noblemen in 1801.
When we get to No. 12 on the Moika River, the scene is set for the 1837 duel between famous poet Alexander Pushkin and the Frenchman who was dallying with wife.
Pushkin is fatally wounded and becomes another annotation on the Spilled Blood excursion.
Otherwise, on the tourist boat cruise through some of the city's 42 islands, 65 canals and 21 rivers we enjoy the sunshine and information on life today and back in the day in St. Petersburg.
Streltsova is quick to point out we should be appreciative of the weather.
"St. Petersburg's calendar is made up of nine months of anticipation of summer followed by three months of disappointment," she quips.
The tour passes all of the city's greatest hits from the Winter Palace, gigantic Heritage Museum, Rabbit Island, where numerous czars are buried, Peter and Paul's Cathedral, elaborate bridges, St. Petersburg University, St. Issac's Cathedral, Summer Garden and Summer Palace.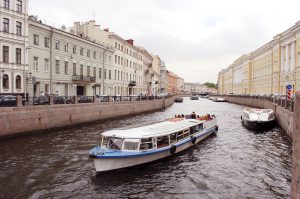 Back on the recently-renovated Disney Magic my daughter and I repeatedly ride the new AquaDunk, the water slide that juts out over the ocean and starts with a vertical drop from a plexi-glass capsule with trap door.
We also groove along top deck with the debut of the new movie-inspired Frozen song-and-dance show, introduced for all Europe and Alaska sailings of Disney ships this summer.
Disney is back in the Baltic this season after a five year absence and we're glad they are because it also makes fascinating stops in Tallinn, Estonia and Scandinavian-cool Helsinki and Stockholm and operates round-trip from Copenhagen.
We flew Kelowna to Edmonton on WestJet and then on a code-share flight from Edmonton to Reykjavik in business class on Icelandair and connected to Copenhagen.
Icelandair is promoting itself as a hub for European flights and encouraging stopovers in Iceland of up to seven days without any extra airfare costs.
Icelandair also flies non-stop to Reykjavik from Vancouver, Toronto and Halifax.
Check out DisneyCruise.com and Icelandair.is.