By AJ Williams
A Mid-Century Modern girls getaway….for Mid-Century Modern (ish) girls.
Palm Springs may bring to mind golfing, shopping and dining, and while it's all of those, it's also a microcosm of American history, architecture, celebrity, and culture.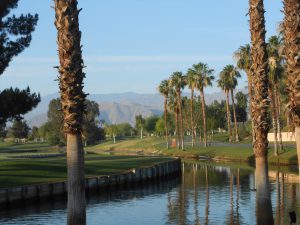 Channeling our 'old Hollywood' alter-egos, we landed in Palm Springs (one of the coolest airports anywhere!)  This was a 'QuickTripTo' my best friend and I had been talking about for years! For me, a chance to explore this iconic destination with such a rich history; for her, an opportunity to escape the routine of kids, errands, work, and doing things for everyone else. No matter the reason, Palm Springs might just be the perfect Girls Getaway! It's classier than Vegas, calmer than New York (which I do adore) and if you fall for the unique beauty and confidence of Palm Springs, you'll fall hard.
To really appreciate the architecture (think George Jetson meets Frank Lloyd Wright) you need to take a tour. After breakfast at Wilma & Freidas (the short rib benny will change your world) in Palm Desert, get over to the Palm Springs Visitor Centre, where you'll meet up with your tour guide, Robert Imber, proprietor of PalmSpringsModernTours.  He's a legendary devotee of mid-century modern architecture and all-round man-about-town.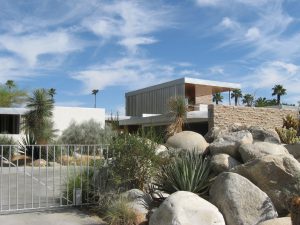 You'll come away with an incredible appreciation for the visionaries that practiced architecture here decades ago. Frey, Clark, Wexler, Williams, Cody, and of course Lloyd Wright have all put their mark on this town. Simple, yet brilliant design greets you at every turn, as well as many celebrity homes, including Elvis & Priscilla's Honeymoon Hideaway, one of Liberace's homes, and of course, Sinatra's house.
Up on the hill is the ever-present Bob Hope house, which looks somewhere between 'Darth Vader's helmet' and the Bat Cave. It's iconic (and currently for sale if you're flush with $25Million). The 'Alexanders' are everywhere. These homes all feature the same street-side formula: Parking, Breezeway, windows, wall. What differs is the materials used, orientation and the customized décor inside. No two look truly alike, which is design at its finest. For an immersion course, visit during Modernism Week in February.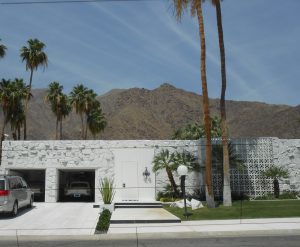 By now….you'll be parched. So for drinks a trip to the Parker Palm Springs is a must. It's quintessentially retro and oozing with character (like the folks who stay there). The people watching is outstanding!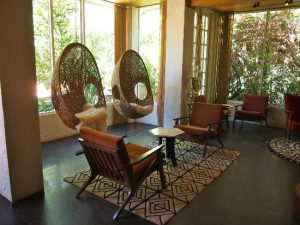 If you're in town during the winter months, make sure to get to The Purple Room for a Friday or Saturday evening. This show lounge has seen an incredible resurgence in popularity. It was 'the' place for the likes of Frank Sinatra and the rat pack, Elvis, and many more legends to 'warm up' their acts prior to taking them up to Las Vegas. Go early and get a table up front so you can truly enjoy the 'Gand Band'.

The Gands, a couple from Chicago make Palm Springs their winter home. You'll be grooving to old & new classics while sipping a martini. Frank would approve.
If shopping is your game, Palm Springs is your nirvana, and a stroll along 'El Paseo' in Palm Dessert is a must – it's the 'Rodeo Drive' of this area, but it's much more approachable and dare I say, fun! Lots of cafes allow for great celeb spotting.
From high-end retailers to flea markets to vintage consignment shops, there's something for everyone here in the desert. Since our theme was all about 'Mid-Century', we decided to cruise the vintage consignment and thrift stores hoping that maybe, just maybe, we'd find some fabulous outfit from Dinah Shore's closet with my name on it!
Shopping will work up your appetite. Dining is so good in Palm Springs that you'll wonder how all those Hollywood starlets kept their svelte figures, but hey – you're on a girls getaway, and the gym can wait. We savoured dinner at Catalan, a delightfully unassuming spot in Palm Springs. A warm welcome awaits everyone and the great service is only overshadowed by the authentic, delicious Mediterranean food.
Whether you're in that 'mid-century' life stage or not, Palm Springs is the ultimate girls getaway! Shopping, Dining, Spa, People Watching – this place has everything you'd want!   Yes, there's also a lot of outdoor pursuits (besides golfing), like visiting the nearby Joshua Tree area, hiking trails, the famous oasis in the desert and more….but that might require ditching my heels for hikers….and that wouldn't be 'Old Hollywood' now would it?