By Steve MacNaull
Channeling my inner Amsterdammer, I sleep in a canal boat and then
cycle in the rain.  It's all part of making my visit to the Dutch capital as authentic,
and unique, as possible.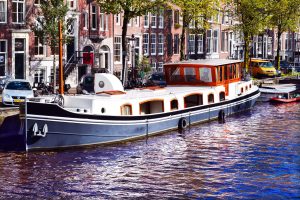 I've been to Amsterdam before and stayed at DoubleTree, which is a
very nice chain hotel with well-located properties.
But this time around, I yearned for the quintessentially quirky and
the delightfully Dutch.
Officially, I'm in Amsterdam to drop by Booking.com headquarters and  learn more about the wildly successful website that's helped more  than one billion people rent vacation and business trip accommodation.  Most of that activity is naturally hotel rooms.
But, Booking.com also has 29 other types of accommodation in its inventory of 25 million bookable units worldwide, from tree houses,  apartments and safari tents to country villas, resorts and igloos.  So, in an ode to being in canal-and-boat-crazy Amsterdam and it being the company's hometown, I, of course, utilize Booking.com to secure  the canal boat.
In fact, Booking.com lists 80 different canal boats available for rent on its website.
I choose the elegant Prinsenboot on the famous Prinsengracht canal lined with shops, restaurants and those distinctive 17th Century tall  houses.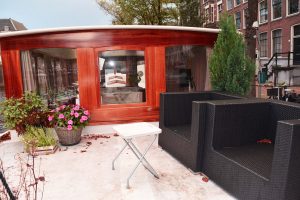 The former barge has been converted into three comfortable and modern nautical-style suites.
It's so soothing to sleep in the cushy bed while the water laps  against the vessel and later sip a Heineken on the deck with a canal and tall house view.
My choice of Holland's best-known beer is again a nod to location and context.
Back in her barge days, Prisenboot used to haul grain to the Heineken Brewery on the nearby Singelgracht canal.
Today, Prinsenboot is firmly moored as a holiday home.  It doesn't even have a motor anymore.
To amp up my Amsterdam experience, I decide to hop on a rented bike to cycle the seven blocks and five canals and bridges to Booking.com head office for my appointments.
But, it's spitting rain outside. All the locals continue to cycle undaunted, so I join them.
Luckily, my rented wheels is a sturdy, single-gear, no-nonsense model  with ample fenders so I don't get splashed up the back by the liquid sunshine.
Nonetheless, I show up at Booking.com's trendy offices in the historic former Dutch National Bank building on Herengracht slightly  damp and dishevelled.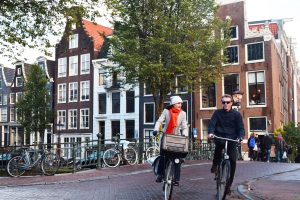 Upon my arrival I discover most of the 1,700 who work there cycle to  work because it's the most efficient way to get around.
In a compact city centre with little parking for cars and  criss- crossed with canals and narrow street, the bike is king.
There is, however, space beside the canal for row upon row of parked  bikes as far as the eye can see.
Even high-powered, multi-millionaire Booking.com CEO Gillian Tans  cycles to work, dropping her kids at school along the way.  When I catch up with Tans she's happy to hear I've cycled there and  I'm staying in a canal boat booked on Booking.com.
"Our company mandate is to empower people to experience the world,"  she says.
"In your case, it's a very Dutch experience for you today."
On my previous trip to Amsterdam, I did the requisite Red Light  District, marijuana coffeehouse, Edam cheese, wooden shoes and flower market tour.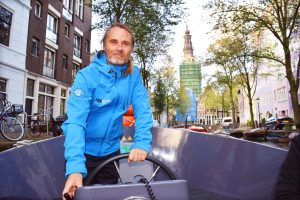 Thus, this visit allowed me more time to hang out on the canal boat,  take a sightseeing Kinboat canal tour while enjoying a Heineken and  discover the foodie side of Amsterdam.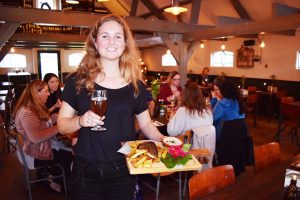 There were memorable meals of Dutch comfort food at De Vergulden Eenhoorn, a restaurant in a recommissioned circa 1702 dairy barn;  fresh seafood canal side at Scheepskameel; and nouveau Italian at Bussia.
Check out all the amazing options at www.booking.com