You could be forgiven for throwing restraint to the wind when marking a milestone birthday.   Especially when it comes to great food and wine.  No arguments here.  Since I'm a true blue 'foodie', when it was time to celebrate a rather big birthday recently, we chose to go to the epicenter of food – France.
This time, we chose a 7 day Viking River cruise on the Rhone from Avignon to Lyon and found many incredible opportunities to sip, sample and search for heavenly bites.
In Avignon, a 'Flavours of Provence' excursion took us through the streets of this storied French city, about 45 minutes north of Marseilles, where we flew to.  Our first stop was Les Halles, an indoor market that's best described as the holy grail for epicureans.
Cheeses, olive tapenades, pates, the freshest of breads, wines and more.  Food bliss!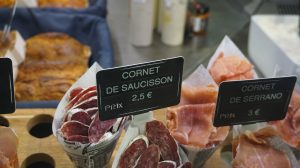 Up next was a traditional French confectionary shop where we met the owner and learned about their specialties.  Salted caramel was a highlight.
After a café au lait at an outdoor cafe, we needed to walk a bit in order to feel slightly less guilty about our upcoming lunch after a cooking class at Maison de Fogasses, a charming inn, restaurant and artists' retreat in the heart of Avignon.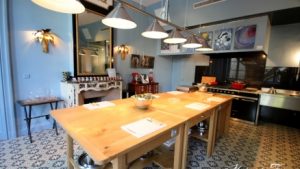 In a private kitchen, we made delicate crusty lattice bread with olives called Fougasses and learned to prepare fluffy cream puffs that we'd enjoy later.  After all this hard work in the kitchen (not really), Corinne, the very stylish owner showed us to the hidden garden courtyard to sip Rose, snack on home-made crackers and local cheeses, and languish in the French lifestyle!
We were then ushered into a private dining room to nosh on boeuf bourgignon, fresh vegetables and the biscuits and dessert we had made.  A perfect foodie day in Avignon.
A little further up the Rhone River, another unforgettable culinary experience awaited us.  By 10:00am, we were at Chateau Chasselas, a charming winery inn in the heart of the Beaujolais region.  The owner, Jean-Marc, traded in life in the Paris fashion industry for dirty boots and hard work in the vineyard, and bought the chateau in serious disrepair.  It's been lovingly restored and you can even stay in a 'gite' (French cottage) onsite if you just can't bear to leave.
Jean-Marc proudly toured us around the property and then we enjoyed a curated tasting in his beautiful winery.  The Beaujolais region is a postcard.  Perfectly manicured vineyards, lovely little towns dotting the rolling hills and residents who are welcoming but protective of their fantastic wine and perfectly balanced lifestyle.
Bidding au revoir to Jean-Marc, we made our way to a secluded truffle farm about 45 minutes away.
Here, we learned about these highly prized fungi and had a chance to not only sample some truffles (finely minced into fresh butter and generously smeared on baguette slices),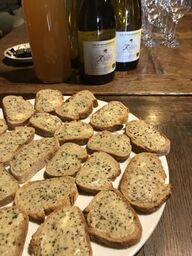 but to get out on the farm with Chinook, the truffle dog, and watch her hold court over the picturesque forest we traversed in search of gold.
Well, actually black.  The black perignon truffles are the most highly prized.  Chinook is never wrong, and when she smells a truffle, and indicates with a gentle swipe of her paw, her master is waiting to dig just a little deeper and unearth the precious nuggets.  Chinook has been at this for 13 years and is ready to retire, but a new recruit is currently in training.
We had a family-style lunch and then headed to a goat farm just across the border in Burgundy to indulge in fluffy, creamy chevre.
You might think a goat is a goat, but I'd argue that the cheese we tried in this area of Burgundy was probably the best I've tasted.  Even those firmly in the 'goat cheese isn't my thing' camp had their minds changed!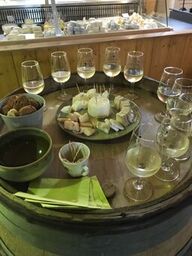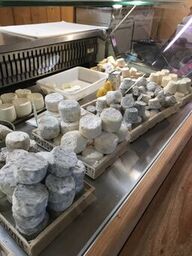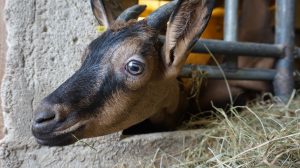 After a full day of the flavours of France, it was time to rejoin the Viking Delling and get ready for, oh yes, another amazing meal from the ship's Executive Chef.
Finishing our cruise in Lyon, the 'actual' Food capital of France, Viking had arranged a special, private cooking class for me at In Cuisine, a culinary school in the city.  I was excited to have a more challenging cooking class, and this one didn't disappoint!  I learned (unapologetically) to prepare foie gras and make several dishes with this decadent, silky delicacy.  I'm still dreaming about it.  The chef didn't speak much English and my French was broken, but it didn't matter.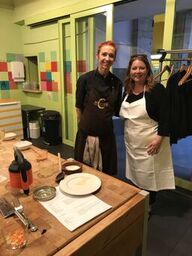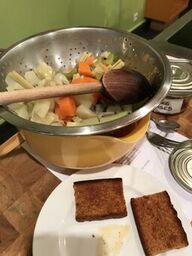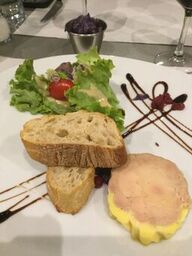 Food is the universal language after all.  My culinary cruise through France has provided me with many tasty memories – and the best birthday yet!