You can buy a three-day pass for $179Cdn until Aug. 10 or it will cost $199 at the gate.  Day passes start at $69.
What makes the Salmon Arm Roots & Blues Festival so compelling is, year after year, a talented line up of musicians grace the stages spanning the many genres.
It covers the gamut from roots and blues, folk, country, bluegrass and boogie to soul, funk, Indigenous, gospel, jazz, Celtic and reggae.
The stages are alive from 10 a.m. to midnight with 40 acts, so you can get your dose during daylight, be a night owl, or both.
You can bring your kids and play in the Family Fun Zone; eat breakfast, lunch, dinner and snacks at the food trucks; shop at the vendors selling everything from caftans and feathered boas to hats and jewelry; quench your thirst in the beer garden or wine lounge; and even meet artists post-performance for a chat and CD signing.
Attracting mostly baby boomers and generation Xers, Roots & Blues is the fest for discerning music lovers.  It's family-friendly, not too loud or rowdy or crowded.  You may get a whiff of pot, but certainly not be offered ecstasy.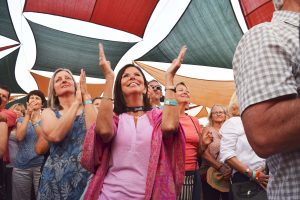 "It's all about chemistry," said festival artistic director Peter North.
"There has to be a mix of new and established acts, ones you've heard before and ones you'll discover. The workshop matches are magic and you generally just can't help but have a good time."
Shuswap economic development officer Robyn Cyr puts a different spin on it.
"This festival is a huge economic boost for the community," she explains to Kerry and I when we meet her in the wine lounge for Cuvee and Ortega from local wineries Celista and Edge of the Earth.
"It really is the area's marquee event attracting 35,000 people a year. It's also the launch point to introduce people to the Shuswap as a tourist destination for houseboating, wine touring, dining, arts, fishing, hiking, biking and water sports."
Speaking of which, Kerry and I, our 15-year-old daughter, Grace, and her friend, Lauren, combined houseboating with the fest for an unforgettable summer experience.
We picked up our luxury, five-bedroom, 60-foot-long vessel at Waterway Houseboats in Sicamous and sailed the 13 kilometres down the Salmon Arm section of Shuswap Lake to the town of Salmon Arm and docked at the community wharf.
The houseboat was our handy hotel suite, floating just a 15 minute walk from Roots & Blues at the Salmon Arm Fair Grounds.
On the way back we had time to stop in the middle of the lake for playtime, shooting out of the corkscrew waterslide off the back of the boat, jumping into the water from the top deck, swimming and soaking in the hot tub.