Cycling over the Golden Gate Bridge the highlight of a long weekend in San Francisco
Of course we're amped. We're cycling over one of the Seven Wonders of the Modern World, according to the American Society of Civil Engineers. The wind howls, our grip tightens on the handlebars and we peddle harder. My wife, Kerry, and I and our 16-year-old daughter, Grace, are half-way across San Francisco's Golden Gate Bridge on rented mountain bikes. We'd been told conditions could be fierce, after all, we're 67 metres above the Golden Gate Strait and mid-way on the 2.7-kilometre-long crossing between two chunks of land known for being notorious blustery.
We don't mind.
We wore our jackets and we're high on the experience of traversing this aesthetic beauty and engineering marvel. On a sunny Monday afternoon, the Golden Gate is not only busy with cars, but packed with cyclists and pedestrians commuting in their dedicated lanes. We soak it all in, stop at some of the pull outs to snap photos and admire the views of San Francisco's skyline to the east, Marin County's mountains to the north and west and the choppy waters of the strait below.
We end up in Sausalito, the picturesque town on the ocean seven kilometres north of San Francisco, and reward ourselves with a lunch of pizza and California wine at waterfront Bar Bocce.
After the eats and drinks, we lose interest in further exercise, so we opt for the bike return (what an inspired idea!) in Sausalito and return to San Fran via ferry past the bridge we just conquered and Alcatraz Island.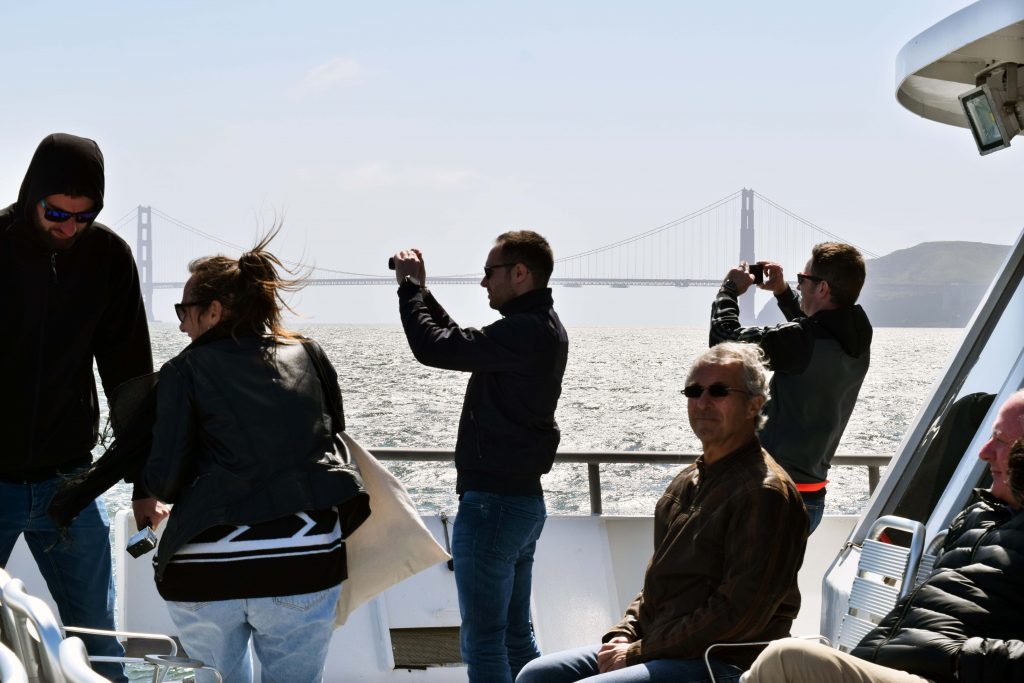 Keeping up the theme of rolling around on two wheels, the next day we hop Segways with San Francisco Electric Tour Company to zip by the city's greatest hits – Fisherman's Wharf, Embarcadero, Coit Tower and the Municipal Pier to get additional views of the Golden Gate Bridge.
While on the Segways, we spy two restaurants we have to come back to for quintessential San Fran meals.
Bistro Boudin is the elegant second-floor restaurant with San Francisco Bay views that is attached to Boudin Bakery, the founder of San Francisco sourdough bread in Gold Rush-era 1849.
As such, our sourdough-centric meal includes fish tacos on sourdough tortillas and chicken club sandwich on toasted sourdough, finishing with desserts of sourdough upside-down bread pudding and cinnamon-sugar sourdough beignets.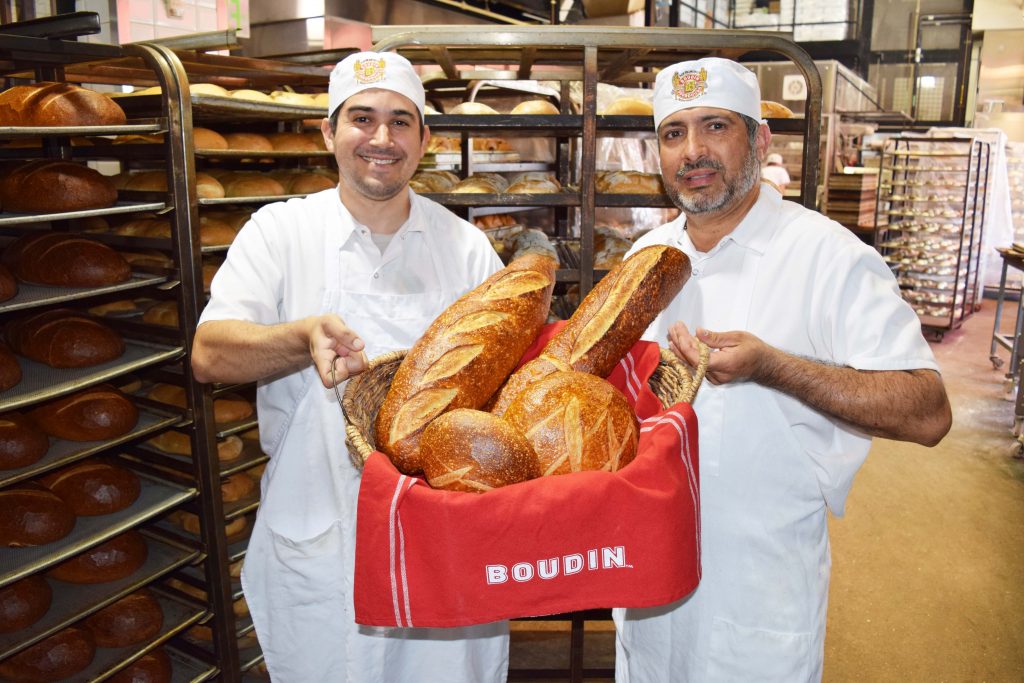 The Franciscan, also at Fisherman's Wharf, has been around since 1957 in a glass building overlooking the bay that resembles a cruise liner. It's famous for fresh Dungeness crab pulled right from the adjacent Pacific, so it's roasted crab in sweet, garlic sauce all round for dinner.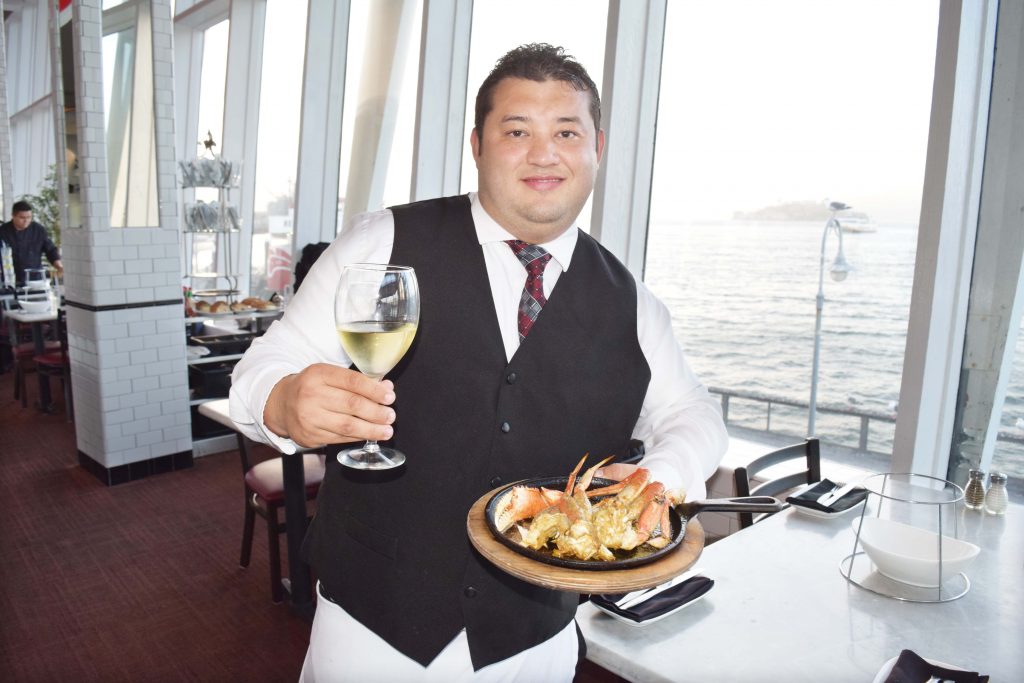 Our digs at the Hilton Union Square are handy for two more San Fran classics.
We have drinks at the 46th-floor Cityscapes bar in the Hilton for panoramic views of the city and bay. A two-block walk away is John's Grill, a San Fran institution since 1908 when it was the first restaurant to open downtown after virtually everything was destroyed in the great earthquake of 1906. Of course, we have to order, and enjoy John's steak, a tender strip loin, with California Cabernet Sauvignon from Kith and Kin.
In between the eating and drinking, we ride the historic and famous Powell-Hyde cable car up and down impossibly steep Nob Hill and Russian Hill.
We nab prime spots hanging off the open-air cable car by its exterior poles.It really is the most fun you can have on a $7 public transit ticket. To be close for the Golden Gate Bridge cycling, we transfer to the Lodge at the Presidio, a former army barracks turned luxe boutique hotel. It's the nearest accommodation to the bridge and our room features a stellar view of the suspension beauty.
Check out SFTravel.com.