Tinseltown is dog-friendly, so book a flight, stay at a boutique hotel and take your pooch on a hike to the Hollywood sign.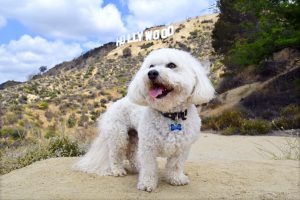 By Steve MacNaull
Benji loves his cushy new dog bed.The bone-shaped squeaky stuffed toy is a thoughtful gift.The sunny afternoons spent at the rooftop pool and bar are perfect for relaxing and people watching.  And the morsels of seared ahi tuna secreted to him from his dad's salad on the restaurant patio are delish.
It's definitely a dog's life at the boutique Hotel Chamberlain West Hollywood.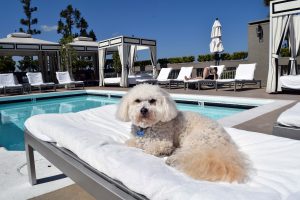 While my little Bichon Frise-cross has a famous name, he is not a star.  He's simply accompanying me on a vacation to Los Angeles that's become very canine-centric. "We know people love to travel with their dogs," said Booking.com regional manager Sherlee Taylor.  "That's why we included pet-friendly as one of the 200 passions on Booking.com's new Passion Search engine. It's become one of the top passion searches, along with Hollywood, beaches, museums and shopping. It's a great way to find amazing destinations and places to stay based on your passions."  That's how Benji and I discovered the Hotel Chamberlain.  I punched in pet-friendly and Hollywood to Passion Search and up popped the 114-room property, well-located on a quiet street just a block from buzzy Santa Monica Boulevard and three blocks from the famous Sunset Strip.Once unpacked at the Chamberlain, it's time to hit the town.And what's more iconic than the Hollywood sign?  So we trek the Hollywood Hills with Bikes and Hikes L.A. owner and guide Danny Roman.Mid-way up the trail the views are sweeping from downtown to the beachfront communities of Venice and Santa Monica and the Pacific Ocean beyond.But really the goal of all these hikes is up-close proximity to the sign.Rounding a corner on the Hollyridge Trail, it appears all it's 45-foot-tall, 350-foot-long glory.Big white letters spelling HOLLYWOOD on the mountainside.  Roman's done this hike hundreds of times, but still joins me in a wow moment.  After all, while it's shallow, the sign is imposing and a symbol off all the fame and riches associated with Tinseltown.  Then we snap into photo-shoot mode.  Benji is poised at the edge of the trail to get his picture taken with the Hollywood sign looming behind.  Roman and I also take turns posing with Benji and the sign.  When I first told friends and family I was jetting off to Hollywood with Benji reactions ranged from "that's great" to eye rolling and even one "that's ridiculous."Yes, on some level it's absurd to fly your dog 1,500 miles on an Air Canada jet just so he can hike to the Hollywood sign with you.  But, on another level that's the point. We're doing this because we can and it's just so fun to have your dog along on as many as life's adventures as possible.Benji travels comfortably in his carrier under the seat in front of me and loves the attention a handsome fluffball gets in airports, cabs, hotels and on the streets.He also loves our long walk from the Chamberlain early one morning to the epicentre of Hollywood where the Walk of Fame is.
We check out Lassie's star, naturally, and Benji mugs for a picture in front of the famous Chinese Theater,  then tries to kiss an actor dressed as Superman who will pose with tourists for tips.We also absolutely have to stop at Shack Shack, the New York City institution that has set up its first West Coast outpost on Santa Monica Boulevard in West Hollywood.  Of course, I order Benji the Pooch-ini sundae of frozen custard topped with a dog biscuit.We'll also have meals on the dog-friendly patios of Marco's and Pink Taco restaurants for great pizza and tacos respectively.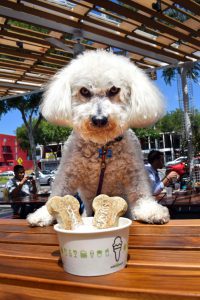 When we get back home, Benji resumes hiking with me at a local park, eating out of his own bowl and sleeping in his own bed, no Hollywood attitude whatsoever.
Check out Booking.com and BikesAndHikesLA.com.