By AJ Williams
Who Dat?   On a recent trip to New Orleans, we soaked up all things Dixie.  Visiting during the famous French Quarter Festival was the perfect way to initiate ourselves on our first trip to The Big Easy. The Big Easy was a name given to New Orleans in the 1970's, in response to the 'Big Apple' tag that latched onto New York.  A gossip columnist for the Times Picayune said 'If New York is the Big Apple, then New Orleans is the Big Easy," where everything is slower, simpler and easy-going.
Getting there is easy, and the airport is a breeze.  It's a fixed fare from the airport to downtown for $36.00 – reasonable!
Be prepared for your senses to be tantalized in every way.  First a word about the music.  It's everywhere, it's diverse, and it creates a soundtrack to your trip.  During the French Quarter festival, there's live music everywhere, and the price is right – it's free!  In all the large squares and parks in the 'Quarter' (as it's known to locals), you can enjoy wonderful music.  In one square it might be Jazz, in another blues, still another, Dixieland, and of course, the local Zydeco music that's guaranteed to get your toes tapping!  This very walkable city has an energy about it that needs to be experienced, and the French Quarter Festival is the time to check it out.  It's not as crazy as going during Mardi Gras would be, but still has all the fun & festival-vibe you'd imagine!
Bourbon Street is legendary, of course, and didn't disappoint!  Some of the best people-watching anywhere, and as you're strolling along, sipping your 'Hurricane' cocktail or 'Hand Grenade' concoction, (yes, you can walk down the street enjoying an adult beverage legally), you're sure to see some, shall we say, 'interesting' sights!
It's a non-stop party on Bourbon Street, but in spite of the crowds and kooky costumes and dance-party scene, everyone was quite well behaved and we loved the vibe!
A visit to Bourbon Street wouldn't be complete without a visit to Pat O'Bryan's dueling piano bar.  Two copper-clad grand pianos are perched on a stage in front of this historic bar.  Act quick to find a table and then get ready to write your requests on a napkin and send them up (with a buck or two) to these amazingly talented musicians.  It's non-stop action and the mirror behind the pianos allows you to see some of the best ivory-tickling on the planet.
Back out on Bourbon Street, there's lots of other great little spots to tuck into to enjoy live music.  And the food…..New Orleans is known for being a great food city, and it did not disappoint!  Stop at Felix's for a crawfish boil or fresh oysters on the half shell, or soft-shell crab when they're in season. Speaking of the crawfish….you have to try them, but to be honest, I don't need a lot of crawfish in my future.  They're tasty enough….but a lot of work for a tiny morsel of meat!  A good, large prawn suits me better!
The seafood in New Orleans is all perfectly prepared, and pairs beautifully with any of the local beers.   If fine dining is your thing, Nola rivals New York or Paris when it comes to amazing restaurants!  We tried to pace ourselves, reserving great dinners every other night of our visit.  The food is amazing, but rich, so spacing these nicer dinners out like this worked brilliantly.  On the 'off days', we'd grab some lighter fare.
We arrived on the Monday before the festival.  On Tuesday, we got up and went exploring, taking the street car into the garden district.  The grand old homes and beautiful gardens are stunning.
New Orleans architecture is unique, and oh-so lovely! We stopped at Fat Harry's for a beer, which hit the spot on a warm day.  After a lovely ride, we made our way back to the French Quarter and went strolling and shopping at some of the incredible antique and decor stores.  Good thing I didn't have any room in my suitcase, because I was so tempted!!
Our first dinner out was at K.Pauls.  This legendary eatery was the culinary home of the late Chef Paul Prudhomme, a larger-than-life Louisiana treasure!  I started with Fried Green Tomatoes (naturally) and RB went for the rabbit tenderloin.  My entree was veal with seafood etouffe was to die for!  RB went with the Crawfish – prepared nicely.  So that's the thing about crawfish – if someone else is peeling them & preparing them, they're awesome!
The service was impeccable, and our meal there was truly a stand-out on the trip.
The next day, we made our way out to Oak Alley, one of the amazing plantations near New Orleans.  These properties are grand, built by slaves, and may have operated as sugar cane plantations, or other crops, but also often served as the 'weekend homes' of the New Orleans aristocracy.
Situated along the Mississippi, you can truly picture how these wealthy city-folk would have come out to the country by paddle wheeler or steam boat, getting off in front of the long driveway leading to the plantation house.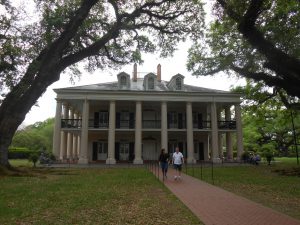 We took a guided tour of the main house,  conducted by a lovely southern-belle of a tour guide in full period costume.  When you're in a place like this, you can't help but be transported to a different era, and we were quite overcome with the thought of what life was like.  The slavery past of these grand homes is ever-present, and the historic societies that run them now want visitors to know that it's a part of the Louisiana history they aren't proud of, but don't want to forget.  The thought of the slaves being bought & sold, working so hard for their owners, and living in the conditions they lived in is difficult to imagine or believe, but it is indeed a part of history we must not forget.  Even after they were emancipated, many of the slaves continued to work for the same families.  In fact, some of them had really almost become part of the families, especially the 'house-slaves' who cared for the plantation family's children.  An interesting hierarchy within the slave workers community existed also.  There was 'classes' there too, and their living quarters clearly showed the difference between the way a 'field-slave' lived (sleeping on a mat on the floor in a very primitive shack), to the way the so-called 'house slaves' lived (still very rudimentary cottages, but more comfortable accommodations with regular beds and furniture).  A sobering moment for us came when we saw a large sign indicating all the slaves who had worked on the plantation, their names, their ages, their skill (if they had one, such as masonry, carpentry, cooking) and what they were sold for.  It was clear that if you had a needed skill, like carpentry, you fetched a much higher price (perhaps up to $1300), but a 'field-slave' may have only garnered $400.
Interestingly, and probably just as it's been throughout the ages, there were good employers and very bad ones.  It was no different in 1800s Louisiana.   It was also a tough life back then.  For the slaves (for obvious reasons) but for people in general.  Disease swept through the area, and many would die, often at young ages.  Infant mortality rates were high, and life expectancies were much lower than today.
The house at Oak Alley is breathtaking, filled with great furnishings and stories.  We had lunch at the restaurant on the property, which was fantastic.  It was here we tried 'Gator Bites' which were a bit like calamari – fried and crispy, but a bit chewier.  They were served as our starter.  Randy had red beans and rice for his entree,  a staple in Louisiana cuisine – served with flavorful smoked sausage.    My entree was Oysters Roman, and just thinking about it makes my mouth water!  Fried Louisiana oysters, set atop grilled French bread and crowned with a brandy mushroom and lump crab meat cream sauce.  Need I say more?  After all that, we had no room for dessert, but thought it might seem rude to not try one of their home-made delights.  The bread pudding with whiskey sauce here was our first chance to try this local staple, and it was sublime!  They're famous for their pecan pie, and their buttermilk pie is another sweet treat that's not to be missed.
Oh, and if you're wondering what the appropriate beverage is, why it's a Mint Julep of course.  You'll feel oh-so-southern just ordering one.
After our plantation day, we made our way back to New Orleans, and strolled through the Quarter enjoying yet another lovely warm evening.
The next day (Thursday) saw the official start of the "French Quarter Festival" which kicks off with a colourful parade.  But if you get up early enough, make sure to walk down to Cafe du Monde for a New Orleans classic – coffee and beignets.  This place is the 'original coffee stand' at Old Jackson Square, and goes around the clock.  For the uninitiated, beignets are like a donut, but better.  Fluffy little fried dough puffs, served warm and topped with a mountain of icing sugar.  I was sure they must have icing sugar brought in there by the dump-truck load!
After your sugar-coma inducing breakfast, it's time to get back up to Bourbon street and stake out your spot along the parade route.
Pro tip:  The day before the festival, get to Walgreens or Walmart and get yourself a $10 lawn chair – the kind in the carry bag with a handle you can sling over your shoulder.  You'll have this attached to you for the rest of your time at the festival, and it'll be the best $10 you'll ever spend.  When you check out and head home, leave it for someone who will thank you.  So…back to the parade.  Set up your chairs (this is a team sport), then send one of your group to the Old Absinthe House to get a round of bloody marys.  These, folks, are the best Bloody Marys anywhere!  then let the games begin.
You'll hear the parade before you see it – and it's fun!  Music, whistling, kazoos, colorful costumes and a general excitement about the upcoming French Quarter Festival.  It's the perfect way to kick off the event!  After the parade (it's not very long), get down to Jackson Square to stake your claim and find a great spot to sit.  Shade is at a premium, so smart music fans set up under a tree.  The music is amazing, but what blew us away was the food!  This isn't your run of the mill food vendor scene.  Oh no…..some of the finest restaurants in Nola set up food stands around the periphery of the various parks & squares and serve small bites that are totally delectable.  So…welcome to the next few days – grazing, toe-tapping music, yummy frosty beverages, and plenty of southern hospitality.  It's a perfect combination!
Our next amazing meal was at Arnaud's and again, it didn't disappoint!  Another New Orleans classic, this restaurant is at the corner of Bourbon Street and Bienville.  It's been around nearly 100 years, and it didn't take long to see why!  The service was outstanding and  they're serving up classic creole cuisine.
The crabcakes were probably the best I've ever had!  Randy chose the daily 'From the Gulf' fish special which was 'Drum,' a fish we had never tried before.  It was white and firm, almost like sea bass, and prepared perfectly, encrusted with potato, then pan seared and served on a bed of sauteed fennel.  Delish!
The next day (Friday), Randy headed off to check out the World War II museum, an absolute must for history buffs.  It's a massive museum, featuring 4 buildings.  Randy only had time to really take in one, but on a future trip, he definitely wants to go back!  While he was there, I checked out the Louisiana School of Cooking – a fabulous spot in the heart of the French Quarter.  They run two classes per day, and it's non-stop laughter, food and Cajun story-telling.  They have a great shop also, selling local cajun spices, mustards, coffees and all kinds of kitchen stuff for the foodie on your Christmas list (or just your own kitchen if you're like me!)  I couldn't get into a class as they were full, but will definitely plan ahead next time!
On Saturday (the day we were heading home), we got up & took another stroll around the French Quarter in the morning, and then packed up & checked out.  But….we couldn't leave New Orleans without one final culinary blow-out.  So….off we went to Commander's Palace.
In the gorgeous Garden District, this Nola institution is another 'must' and if you're fortunate enough to be in the city on a Saturday or Sunday, you absolutely have to go for their famous 'Jazz Brunch'. The gumbo was fantastic, and the Eggs benny with shortrib so delicious!  Live music, the most amazing brunch menu, and a bread pudding souffle with whiskey cream sauce that will change your world, and make you wonder when you can come back to this fabulous city again!
We stayed at the beautiful boutique hotel, The Mazarin, right in the heart of the Quarter.  This hotel is a fabulous slice of everything great about the French Quarter – beautifully appointed and boasting some of the friendliest hotel staff on the planet!
Our trip to New Orleans ensured we had lots of laughs, great food, good times and made some great memories.
As they say in the Crescent City, Laissez les bons temps rouler!  (Let the good times roll!).