by Steve MacNaull
We round the corner from the peaceful temple on Chandni Chowk to Khari Baoli Bazaar and are immediately assaulted by authentic Old Delhi.
It's a street scene that has to be experienced to be believed.
The alley is narrow with shops spilling out each side selling everything from kitchen utensils and spices to produce and live chickens.
Jumbles of overhead wires are so thick they sag ever closer to the pavement.
But this doesn't stop a crush of humanity from funnelling through the chaos, on foot, some dressed in colourful saris, others zig-zagging on motorcycles, cyclos, rickshaws and tuktuks.
Even the occasional delivery truck squeezes through forcing everyone, back up against the wall, so it can pass.  Trash is strewn everywhere.  Rubble abounds.
Skinny stray dogs amble by, wary-eyed.  The overwhelming sound is honking traffic.
Despite all this, the place smells great.  The aroma of pungent cumin, cardamon, chili and cinnamon fill the air.
And virtually every shopkeeper, no matter how humble a premise they oversee, seems to be burning atmospheric incense.  Needless to say, my wife and I's heads swivel.
After all, India is jarring.  The country, and particularly the markets of heaving Old Dehli, are both disturbing and delightful at the same time. 
Like many a first time visitor to the sub-continent, we are tracing the Golden Triangle in the northwestern part of the country from Delhi's bustling bazaars to Agra to eyeball the iconic Taj Mahal and Jaipur to ride an elephant.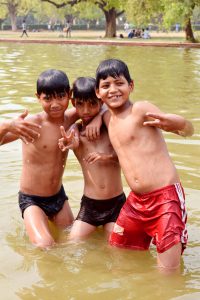 We've billed it our luxury trip of a lifetime to India, although you might not think of the above descriptions as luxury.
But, luxury is also immersive.
So being able to experience such a streetscape, taking photos of cute kids, buying spices at Mehar Chand & Sons, riding in a rickshaw in dangerously exhilarating traffic and then retreating to the rooftop pool of the five-star Le Meridian New Delhi Hotel qualifies as luxury.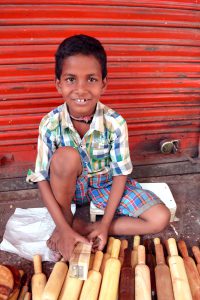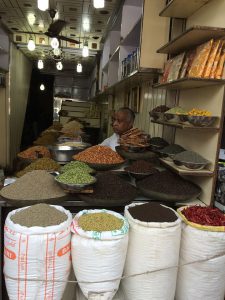 We've flown the new route of Toronto to Delhi non-stop on Air Canada's new Dreamliner Boeing 787- 900 series, the 300-seat jet that promises to deliver you to your long-haul destination less jetlagged thanks to higher levels of humidity and increased cabin pressure, allowing your blood to absorb more oxygen.
We've amped up our flying pleasure by booking into business class for the Champagne reception, menu including Indian delicacies such as jalfrezi and aloo ghobi and completely lie-flat seats in our own pods for a good night sleep.
So, after touring Delhi without jet lag, we head 210 kilometres southeast to Agra, home of undoubtedly India's most famous and visited monument, the Taj Mahal.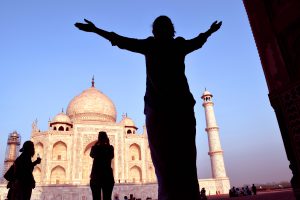 We've all heard the stories of how Shah Jahan built the marvelous white marble mausoleum to honour his queen, Mumtaz Mahal, after she died giving birth to their 14th child in 1632.
It's the ultimate sad love story.
The domed edifice shimmers, even on a cloudy day, and the entrance through an arch with a long pool stretching to the Taj is all designed to wow.
This is when we are taken over by self-appointed photo consultant Kassif.
He works on the Taj grounds, although doing exactly what we never find out.
With a rapid-fire approach he steers us to all best vantage points for pictures from the bench made famous in the 1992 Princess Diana photo and up the waterway to scenes framed by leafy trees and finally the artsy silhouette of ourselves with the Taj in the background.
Kassif not officially a guide and can't officially ask for money, but he does operate with a disarming if-you're-happy-I'm-happy charm that sees us tipping him 200 rupees, about $4, for his 15 minutes of service.
A 265 kilometre drive gets us to Jaipur, the capital of Rajisthan nicknamed the Pink City for its abundant rosy sandstone architecture.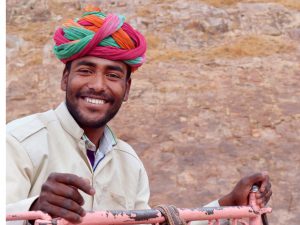 We ride an elephant like a Maharaja and his queen up to the Amber Fort and also drop by the home of a local family to eat dinner with them after preparing paneer ki sabji and chicken curry.

On the ground in India, Air Canada Vacations' partner, Vasco Travel, seamlessly handles everything from airport pick up and drop off and bookings at luxurious hotels like Le Meridien New Delhi, Radisson Blu Taj Mahal East Gate and Fairmont Jaipur to all Golden Triangle driving in chauffeured private van and no-line up entrance to all monuments and activities with guides.
Check out AirCanada.com.