Lost in Exuma
March 19, 2017

Chicago by Mini
June 5, 2017
This is my Osprey Ozone 35L pack.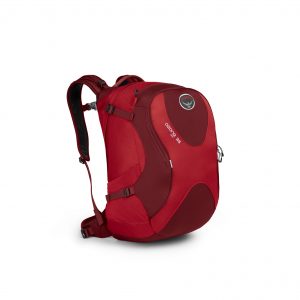 Since I'm not a 'back-country' hiker (by any stretch of the imagination!), the thought of choosing a backpack was a bit daunting.  I mean really!  Have you ever stood at REI or MEC and looked at the wall of backpack options??  But I have to say I chose this one and I couldn't be more pleased.  If I'm doing carry-on only (and I highly recommend you try to do this whenever possible!) this is my personal item, and I take a small rollaboard as my carry-on.  This Ozone35 is perfect to hold my laptop (essential!) as well as my camera, a small purse that I can bring out whenever I leave the pack back at the hotel and need something for going out to dinner, etc.  It also has lots of compartments, holds everything you need and doesn't seem like you're lugging a small yak on your back…..  It's ventilated and super comfortable, fully adjustable and lightweight. I've schlepped this thing all over the world and it's extremely well built!
Bottom line:  Highly recommend.
http://amzn.to/2qEdic6