Playing with monkeys in Honduras is a highlight excursion during a Western Caribbean cruise on the Norwegian Getaway.
By Steve MacNaul
As the saying goes, he's a cheeky monkey.
Poncha, a white-faced Capuchin, is flitting between my wife and I and our 14-year-old daughter, wrapping his tail around our necks as he perches on our shoulders and stares longingly into our eyes.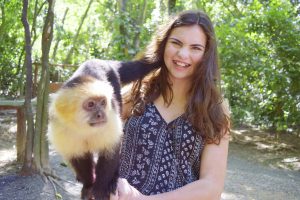 Of course, it's all an act to be rewarded with peanuts and sunflower seeds, the little monkey's favourite edibles.
"Capuchins are the most intelligent monkeys," says our guide Ryan Washington.
"These guys are wild, but they love to come out of the jungle for some treats and to be charming with humans."
We're also warned beforehand to take off all hats and sunglasses.
It's a sport amongst these primates to steal headwear and shades and spirit them high into trees, where they model them as a taunt to their human victims.
"It's a case of monkey see, monkey do," says Washington with a laugh.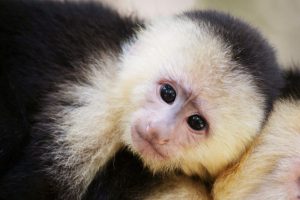 My wife barely escaped her Tiffany sunglasses becoming monkey fashion by not zipping up her purse fast enough.
Yes, secure all bags because these fellas like nothing better than rifling through your stuff for additional food and anything shiny.
We're taking part in this monkey business as part of the Gumbalimba Preserve and Tabyana Beach excursion from the Norwegian Getaway cruise ship.
We're on Roatan, the biggest of Honduras' eight Caribbean islands, where the monkeys inhabit a protected park covering both land and water.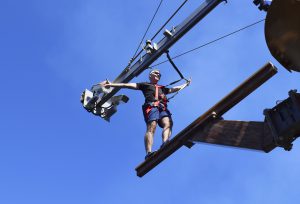 The Getaway docked in nearby Coxen Hole, named after John Coxen, the gentleman England sent out to the colony to be governor from 1687-97.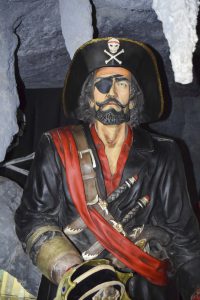 Instead, Coxen adopted the pirate life and had run ins with the likes of Blackbeard and Henry Morgan.
The day ashore on Roatan also includes an afternoon at the island's most famous and busiest beach, Tabyana.
We're content to lounge, soak up the vibe and paddle in the shallows until Cory Bennett comes along.
'Master snorkel guide' reads the hand lettering scrawled on his life vest with magic marker.
We're hesitant at first, but he convinces us to rent snorkelling gear and let him lead us to the barrier reef 100 meters offshore.
The water is crystal clear, the corral abundant and the fish plentiful from grouper, snapper and angels to parrotfish, sergeant majors and blue tangs.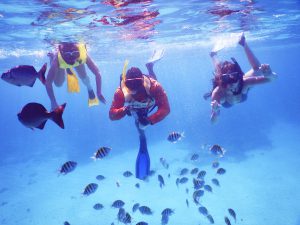 Cory brought a cup of breadcrumbs with him to sprinkle intermittently to attract eye-popping colourful swarms of fish.
It counts as one of the highlights of our seven-day Western Caribbean cruise on the Norwegian Getaway.
The other is the stop at Norwegian's new exclusive port island called Harvest Caye off the coast of the Central American nation of Belize.
The cruise line has developed the paradise with vast stretches of white-sand beach, a massive pool with swim-up bar, four restaurants, five bars and activities ranging from parasailing and ziplining to speed boating and stand-up paddle boarding.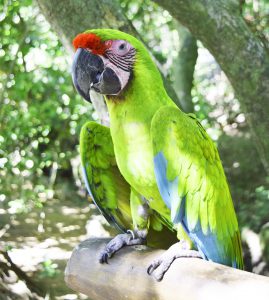 The cruise will also stop at Costa Maya in Mexico so we can hang out at the old-school beach town of Mamahaul and Cozumel, also in Mexico, for more beach time and the best nacho chips and salsa.
The Norwegian Getaway itself is also a destination.
At nineteen decks high, the ship is big enough to house 4,400 passengers and every possible diversion from pools, waterslides, climbing wall, aerial ropes course and cigar lounge to numerous restaurants and bars, including an ice bar, theatre shows and comedy acts.
We jumpstarted our vacation by arriving a day early for the cruise and overnighting in Miami.
We stayed in the city's most famous neighbourhood, South Beach, where the party alternates from the stretches of sand and ocean on one side of the street to the bars, restaurants and Art Deco hotels on the other.
We stayed at The Besty, the top-rated grand dame of Art Deco hotels for easy access to the beach and the Ocean Drive scene.
Check out NCL.com and TheBetsyHotel.com.
The writer travelled as a guest of Norwegian Cruise Line, which neither read nor approved this story before publication.