by Steve MacNaull
Wyatt Boyd is a bit of a show off.
Before my son, Alex, and I start a beginner surfing lesson, instructor Wyatt catches a couple of waves to demonstrate how it's done.  Of course, as the quintessential California boy, former varsity team surfer and past South Bay champion, he's spectacular.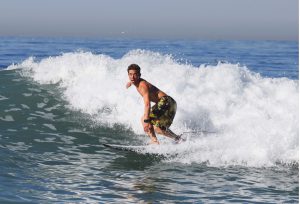 He catches the perfect wave and rushes to shore in a torrent of white water two meters high. He exits the Pacific Ocean and runs towards us tanned, lean and glistening, holding his short board, a big smile on his face.  Of course, we're jealous.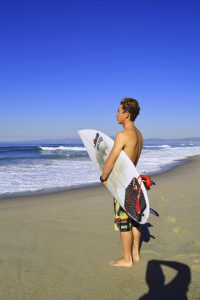 We want to be able to surf like that. Alas, it doesn't happen in a day.
While Wyatt puts down his five-foot-long performance Spyder surfboard, he outfits us with an 11-foot-long thick board he calls 'Big Blue' and 'Old Faithful' for its clunky stability for neophyte surfers. Wyatt also takes us a little farther out in the water at Manhattan Beach, one of Los Angeles' prime oceanfront communities.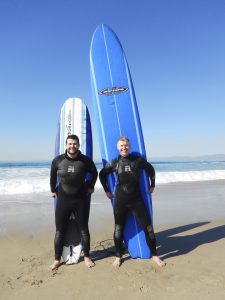 There the Pacific is calmer and with his expert instruction we catch a few waves ourselves.
Granted, they are small waves and the rides are wobbly, but we are ecstatic.
After all, we've just spent the morning surfing and are living the SoCal life, however briefly.
That's why people the world-over love holidaying in the Golden State.  Besides the traffic snarls, it's the ideal place to catch some rays, and waves, hit the beach, cycle, paddle board and generally enjoy yourself year round.
In keeping with the recreational vibe, the Westin Los Angeles Airport, the nearby hotel we're staying at, has a surf concierge who hooked us up with Wyatt at Campsurf.
Surfing instructor is a dream job for Wyatt. He commutes the four kilometres from his house in Hermosa Beach to Campsurf at Manhattan Beach on his beach cruiser bike with a special carrying rack for his surfboard. To mix it up, we decide to visit another of Los Angeles' oceanfront communities, Hermosa Beach, at night for dinner at Mexican restaurant Dia de Campo for lobster fajitas and margaritas and a stand up show at nearby Comedy and Magic Club featuring former Tonight Show host Jay Leno.
Hermosa Beach is worth returning to the next day for an epic cycle along the Strand, the world's longest beachfront bike path at 35 kilometres.  Alex and I start out with bravado, boasting we'll peddle most of the Strand from Hermosa to Santa Monica, a 64 kilometre round trip. A number of factors immediately start to conspire against us.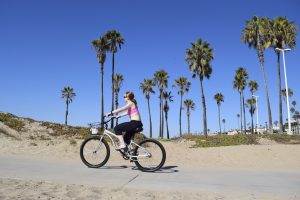 The single-gear beach cruiser bikes we rent from Hermosa Cyclery are so comfortable (they have patented big seats with springs for an easy-on-the-ass ride) we are automatically lulled into a slow pace.
The scenery is so beautiful along the Strand with wide swaths of beaches, the Pacific and palm-treed parks that we stop frequently to gawk and take photos.
But ultimately its hunger that derails our quest to cycle 64 kilometres.
After passing by Manhattan Beach, El Porto, El Segundo and Playa del Rey we're famished and parched.
The sunny, waterfront patio of Whisky Red's restaurant in Marina del Rey becons like an oasis.  We settle in for burgers and beers and the plan to do the final 12 kilometres into Santa Monica is quickly abandoned.  We peddle back to Hermosa unashamed.
We're lured back to another L.A. oceanside community, Redondo Beach, the next day to pick up stand-up paddle boards from Tarsan Rentals and glide around at King Harbor Marina, visit with the resident sea lions and have fish tacos and beer at Baleen Kitchen at Portofino Hotel.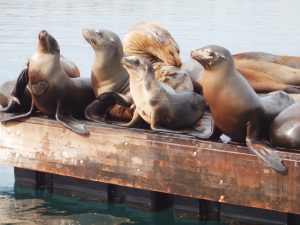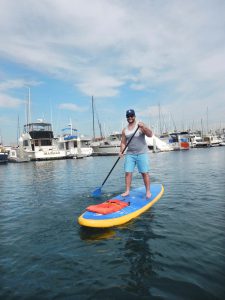 Since it was a bro trip, we ventured just once from the beach communities and headed downtown for the Mediterranean tasting menu at Cleo and to cheer the NBA's L.A. Clippers to a convincing 127-95 win over the Brooklyn Nets at Staples Centre.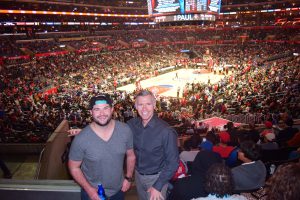 Check out DiscoverLosAngeles.com and WestinLosAngelesAirport.com.