By Steve MacNaull "Stop!" my wife and I shout in unison. We've been on the lookout for a deserted beach on which to romp and there it appears, fronted by turquoise Caribbean waters, topped with glistening white sand. This scene unfolds as we glide into Francis Bay on St. John, one of the U.S. Virgin Islands, on a 48-foot-long catamaran called Smooth Operator captained by Dunbar St. Cyr. St. Cyr obliges. The sails come down and the catamaran comes to a halt. My wife and I grab the standup paddle boards and cover the 50 metres to shore in no time.
This unnamed beach is our own private crescent of bliss for the next hour. We shoot selfies, my wife does her best supermodel strut along the water's edge and we lounge, staring out at the Caribbean and the catamaran we're calling home for four days. We take a moment for quiet reflection and count how lucky we are to be in the U.S. Virgin Islands, the smattering of 50 islands, islets and cays covering 133 square miles between Puerto Rico and the British Virgin Islands. We're on the most customized of custom holidays with Moorings. Moorings has hundreds of catamarans based in exotic locales just waiting to take you out. While Smooth Operator has a full kitchen, four ensuite cabins and sleeps eight, my wife and I decide to be decadently selfish and have the catamaran to ourselves. To be further indulgent, we also hire St. Cyr.
He navigates and commands the sails in waters he knows like the back of his hand. The most taxing things we have to do is determine where to go in consultation with St. Cyr, throw sail-away parties for two and relax as the catamaran cuts through the Caribbean. "Chartering a Moorings catamaran is for people who want to take their vacation to the next level," says our captain, flashing his brilliant white smile. "People love being on the water and visiting islands of their own choosing on their own schedule." Our adventure begins at American Yacht Harbor in the little town of Redhook on St. Thomas. St. Cyr is waiting for us with Smooth Operator shimmering in the twilight. After spending the night on the boat sleeping like a baby in a gently-rocking cradle, we depart Redhook for Christmas Cove on Great St. James island.
By coincidence, we just happen to have Sade's 1984 hit, Smooth Operator, blaring on the sound system. It's only a few miles away, so St. Cyr cranks the winches, raising first the main sail and then the jib, and we zip around Pillsbury Sound taking the long way to Christmas Cove at nine knots under a northeast wind. The cove is known for incredible water clarity, so we snorkel and say hello to hundreds of tropical fish. Hungry, we board the boat, have our own little sail-away party with a champagne toast and backtrack to Water Island for lunch. Sade again croons from the speakers to the captain's approval. He's sick of hearing Margaritaville. Moored in Druif Bay, we take the dinghy in to have lionfish at the appropriately-named dive beach bar, Dinghy's.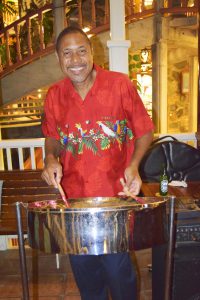 Over the next three days there will be more paddle boarding to deserted beaches on St. John, snorkelling in Virgin Island National Park's Trunk Bay, swimming to a sandbar at Watermelon Cay and elegant dinners on shore at The Grill at Caneel Bay Resort and Ocean's in Cruz Bay to the sound of steel drum music. The destinations are definitely amazing. But what really gets my wife and I psyched is our catamaran time under sail. It's heavenly laying on the rope net at the front of the boat as the Caribbean rushes underneath and the view forward is nothing but blue water and azure sky. It's exhilarating and relaxing at the same time. We're experiencing the ultimate freedom on a catamaran built for eight, but enjoyed just by two on this journey. A Moorings four-cabin catamaran with captain costs $1,600US per night, which can be shared by three couples traveling together.
Keen to extend our VIP status, we arrive in style at the luxurious oceanfront Ritz-Carlton Hotel St. Thomas via Smooth Operator. There's beach and pool time, overnight stay in a suite with Great Bay views and dinner of blackened Mahi fish at Bleuwater. Check out Moorings.com and RitzCarlton.com.