by Steve MacNaull
Sharp new black, white and red livery.
Fashionable and functional new uniforms.
New cabin designs.
And new routes to Frankfurt, London's Gatwick, Taipei, Nagoya, Reykjavik, Shanghai, Algiers, Berlin, Mumbai and Marseille.
"This is about more than just a new coat of paint," said Air Canada chief operations officer Klaus Goersch at the event at the airline's Vancouver Airport hangar.
"This is about  the evolution  of Air Canada and a new era in aviation. We're taking the very best of Canada to the world.  And nothing says that louder than the maple leaf."
As such the new-look exteriors of airplanes sheds the light blue in favor of clean white with Air Canada in black lettering and a distinctive black tail with a reimagined red maple leaf logo at its center.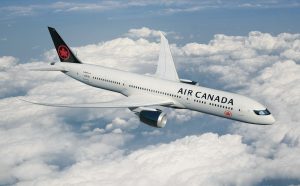 The airline showcased the new livery to great effect by making the announcement in front of a giant white drape, which dropped during a punctuation in the music to reveal a 44.5-metre-long Airbus A321-200 jet decked out in the new colors.
There will also be a black mask around the cockpit's windshield to give aircraft the facial markings of a bird.
The bellies of planes will also be black, a tribute to the country's vast frozen bodies of water and stark Canadian Shield, which appear black in winter.
Goersch touted the rebranding as a the perfect way to celebrate Canada's sesquicentennial and Air Canada's 80th birthday.,
All new Air Canada aircraft will be delivered in the new livery and the airline's entire fleet of 300 planes will be repainted starting immediately and continue over the next couple of years.
Updates to interiors have already started, replacing blue décor and seats with cream, grey and black features to match exteriors.
Pilot and flight attendant uniforms are also being replaced to align with the new hues.
Canadian designer Christopher Bates, who is now based in the fashion capital of Milan, created charcoal grey wool uniforms for flight attendants and black suits for pilots to replace the old navy uniforms.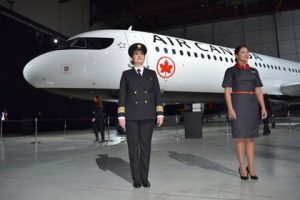 "Of course, there will always be a bit of red in the uniforms, we're Air Canada, after all," said in-flight service vice-president Renee Smith-Valade.
"The uniforms are really all about a classic, trim fit that's worldly, but Canadian, and looks good and feels good."
While previously announced, the unveilings reiterated a myriad of new routes Air Canada will start flying this year.
Starting June 1 and June 8, respectively, the carrier will fly non-stop between Vancouver and Frankfurt and Vancouver and London's Gatwick using Boeing 787 Dreamliners.
Non-stop flights Vancouver-Taipei and Vancouver-Nagoya will also be launched this year.
Last year, the airline introduced the Vancouver-New Delhi, Vancouver-Dublin and Vancouver-Brisbane routes.
In 2017, the airline will also start flying Toronto-Mumbai, Toronto-Berlin, Toronto-Reykjavik, Montreal-Shanghai, Montreal-Algiers, Montreal-Marseille and Montreal-Reykjavik.