By Steve MacNaull
Shortly after we're startled by the Headless Horseman galloping by, we enter The Haunted Mansion.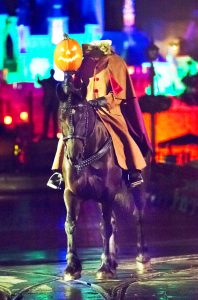 Then we hurl ourselves through a mostly-dark galaxy, get in an elevator with dodgy wiring, perilously hang upside down and ride a railway with sketchy tracks.
It seems we can't get enough of deliberately scaring ourselves.
But, it's all good, safe spookiness.
We are, after all, at Disneyland California where Halloween mock-horror co-exists with the Happiest Place on Earth.
My wife, Kerry, and I have made the trip to the theme park with our 15-year-old daughter, Grace, and our Spanish exchange student, Patri, also 15.
While Patri came to Canada and our family for a truly Canadian, Great White North experience, the global allure of Disney and the pull of sunny California can't be denied.
Thus, we find ourselves taking a break from indoctrinating Patri with 'eh' vernacular and double-double runs to Tim Hortons to put on Mickey Mouse ears and revel in the Cali lifestyle for three days.
We fly to LAX, check into the modernist, palm-treed Disneyland Hotel, have a swim in the pool complex and hit the theme parks –  the original Disneyland and sister California Adventure.
The aforementioned Headless Horseman is the lead player in the special, seasonal Mickey's Frightfully Fun Parade down Disneyland's Main Street U.S.A.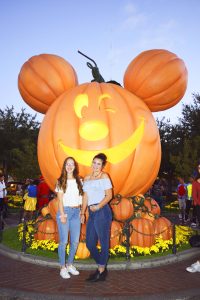 While The Haunted Mansion is a year-round attraction at Disneyland, it really is tailor-made for Halloween.
Disney has even developed a custom black garlands and ribbons to decorate the mansion for All Hallows' Eve and Christmas.
That mostly-dark galaxy is Space Mountain, the roller coaster that sends you screeching through the pitch black with the occasional starry burst and Halloween graphic.
The dodgy elevator refers to the new Guardians of the Galaxy ride where you lurch up and down a shaft chasing monsters and trying to keep your stomach in check.
Hang upside down, albeit only for a moment, on the theme park's corkscrew, and most aggressive, roller coaster, California Screamin'.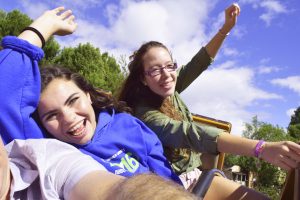 Yes, screaming loud and often is not just encouraged, but inevitable.
No one would usually board a train destined for tracks as rickety as those at Big Thunder Mountain Railroad, but we do and relish the ride.
Of course, with teenagers in tow, we have to also lurch, spin and speed on every other thrill ride from Pirates of the Caribbean, Indiana Jones Adventure, Matterhorn Bobsleds and Star Tours to Buzz Lightyear Astro Blasters, Jungle Cruise, Autopia, Radiator Springs Racers and Grizzly River Run.
To minimize our wait times and maximize our ride time, we utilized the front-of-the-line FastPass system, and the new MaxPass app, to the fullest.
Full disclosure, my wife and I did opt out of a few rides after we discovered Disney has its own winery in the California Adventure Park.
Admittedly, there are only a few rows of grape vines, but it was the perfect setting for local wine flights and appetizers on the Alfresco Tasting Terrace.
Once Halloween is over, Disneyland will celebrate Christmas like never before.
The decor will include 10,000 poinsettias; 150 Christmas trees; hundreds of thousands of lights; miles of garland and ribbon; a gingerbread house in the lobby of the Grand Californian Hotel measuring nine feet by 12 feet; and snow that doesn't melt in the California sun on the iconic Sleeping Beauty Castle.
Check out www.disneyland.ca