by Steve MacNaull
The light isn't hitting the polished aluminum of the airplane just right.
So, everyone who turned up at this Air Canada news conference a little early, myself included, is asked to put a shoulder into the wing and push the aircraft.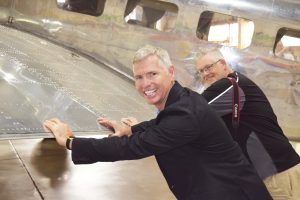 When the 38-foot-long and 6,454-pound 1937 Lockheed L-10A plane reaches the middle of the Air Canada hangar at Vancouver International Airport, the position, and light, is declared perfect and our physical toil ends.
All attention then turns to conversations and photos and how this gleaming vintage aircraft figures in Air Canada's 80th birthday celebrations.
First of all, the L-10A is also 80 years old and looks fabulous for an octogenarian.
And a plane just like it flew Air Canada's first flight on Sept. 1, 1937, when the airline was known as Trans-Canada Air Lines.
That jaunt was 50 minutes from Vancouver to Seattle and the 10-seater plane carried just two passengers, a pilot, co-pilot and some mail.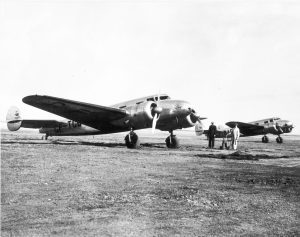 Meticulously restored, the two-engine propeller plane with registration CF-TCC is ready for the spotlight of flying across this great country of ours from now until the end of the month.
Festivities kicked off in Vancouver Sept. 6, 2017 and the first leg of the journey was the next day to Kelowna and Calgary.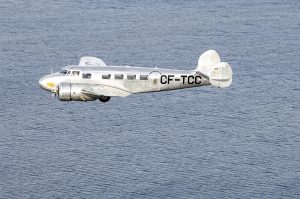 From there, depending on weather, the adventure continues with stops in Edmonton, Saskatoon, Regina, Winnipeg, Thunder Bay, Sudbury, Toronto, Ottawa, Halifax and Quebec City.
You can follow the 80th anniversary flight in real time by going to FlightTracker.com and using the L-10A's registration number of CF-TCC.
The biggest public appearance is in Winnipeg Sept. 13 and 14 at the Royal Aviation Museum.
"It's a privilege and honour to be one of the two pilots flying this beautiful, antique plane across the country," said Toronto-based John Brennan, 55, who usually pilots 300-seat 767 jets for Air Canada.
"It's real flying. There's no autopilot and we fly everything VFR (visual flight rules, rather than instrument flight rules (IFR)."
Winnipeg-based and retired Gerry Norberg, 68, is the other pilot for the cross-country odyssey.
"The L-10A isn't very fast with a cruising speed of 150 miles per hour," said Norberg.
"When I retired from Air Canada eight years ago I was flying 777s with cruising speeds of 500 miles per hour. But it's not about speed with the Lockheed. It's about recreating the golden age of flying."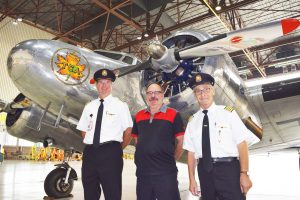 The L-10A doing the birthday flight was in Trans-Canada Air Lines service from 1937-39.
It was then sold to the Royal Canadian Air Force as part of the World War II effort.
During the next 40 years it was bought and sold numerous times and was discovered by a retired Air Canada employee at an air show in Texas, where it was painted white with its CF-TCC registration barely showing through.
The airline bought the aircraft back, restored it and housed it at the Royal Aviation Museum in Winnipeg with only brief flying stints to mark special occasions.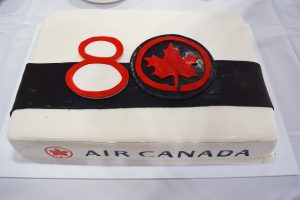 w is also celebrating its 80th birthday with airfare deals and new routes, such as Toronto-Berlin, Vancouver-Taipei and Montreal-Casablanca.