Hoops, Football and BBQ
January 4, 2019
Swimming with Whale Sharks
February 23, 2019
By Steve MacNaull
Tail a waggin', Simba leads the way like he knows where he's going.

It's the first time this Chihuahua-Terrier cross has been on the Koloa Heritage Trail, but that doesn't damper his ears-perked, tongue-hanging-out canine enthusiasm.
My wife, Kerry, and I happily follow, hardly believing we're hiking oceanside on the Hawaiian island of Kauai with a dog we just met five minutes ago.
Three-and-a-half year old Simba is from the Kauai Humane Society, where he's staying until he finds his forever home.  In the meantime, this friendly and athletic pooch is available for half-day field trips to hang out with locals and tourists.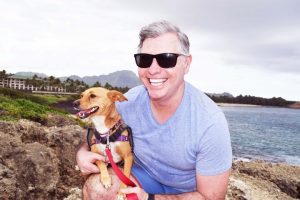 We discovered this opportunity while staying at the luxurious Grand Hyatt Kauai Resort.
The resort's Enrich programs allow guest to volunteer potting plants at the National Tropical Botanical Garden, de-littering a beach or borrowing a dog from the humane society.
A doggie day sounds way more fun than picking up garbage or horticulture.
So, the humane society representative drops Simba off, outlines the rules and hands over his backpack full of treats, water, dish, beach towel and poop bags.
In no time, we've bonded into a pack of three, following the clifftop trail, stopping to admire views over the Pacific and playing on the beach.
Everyone we encounter wants to pat Simba and inquire about his 'Adopt Me' vest.  So, we share what the humane society's development officer Laura Lee told us.
The goals of the Enrich field trip program are myriad: lend the dogs out for exercise, potential adoption by a local or tourist, convince tourists to fly a dog to the U.S. for adoption from a shelter there and free up volunteers back at the humane society to complete other tasks.
We end up back at the Grand Hyatt for a quick nap on a pool-side lounger before Simba is picked up.  There are hugs and kisses as we say good-bye and wish Simba the best of luck.  We're sure this adorable dog will find a loving forever home soon.
Kauai is the western-and-northern-most island in the chain and boasts an undeveloped vibe as the Hawaii you imagined it to be before the hordes of tourists, nightclubs and designer shops arrived.

Air Canada has made Kauai part of its amped up Hawaii program this season with the airline's first-ever non-stops from Vancouver to the island's capital of Lihue.
Air Canada is flying the route with comfortable, new Boeing 737 Max jets, which are 20 per cent more fuel efficient and 40 per cent quieter than older models.
Air Canada also flies from Vancouver to Maui, Honolulu on Oahu and Kona on the Big Island; Calgary to Maui; and Toronto to Honolulu.

To view Kauai's untouched splendor from the air, we board a Safari Helicopter tour over Manawaiopuna Falls, aka Jurassic Falls because parts of the Jurassic Park movie were shot there, and Waimea Canyon, nicknamed the Grand Canyon of Hawaii.
We also 'copter over the many cliffs and beaches of the Napali Coast and spy the gathering clouds and impending showers at Mount Waialeale in the middle of the island, the wettest place on Earth with an average of 410 inches of rainfall a year.
Luckily, the coastline is much drier so we can enjoy more hiking, beach-and-pool time and bike rides while at the Grand Hyatt.
We also stay at one of the island's other top hotels, the Kauai Marriott Resort.
From there we hike out to the lighthouse standing sentinel at the end of Nini Point on Kalapaki Bay and splash in the resort's pool, the largest on the island and shaped like an exotic hibiscus flower.

For a bit of an adrenaline hit we sign up for mountain tubing with Kauai Backcountry Adventures.
Hopping into  inner tubes, we traverse two miles of abandoned irrigation flumes and tunnels at the former Lihue Sugar Plantation.
Kauai has also become an ocean-and-farm-to-fork culinary destination.

For us that means steak and lobster at beachside Kukui's restaurant at the Kauai Marriott;  macademia nut-crushed mahi mahi fish at the torch-lit, thatched-roof pavilions over koi ponds at Tidepools at the Grand Hyatt;  wok-charred ahi tuna caught by fisherman Kevin Yamase at Merriman's Fish House;  and  Umani crab fries, Hawaii's version of poutine, at Aqua Resort's Naupaka Terrace.