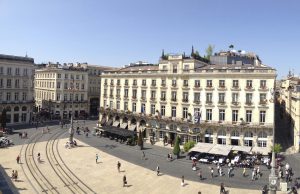 By Steve MacNaull
Don't be afraid to use alarming amounts of butter.
And cream.
And truffles.
And caviar and foie gras and wine.
And anything else French and wonderful and delicious.
This is the sage advice of chefs Nicolas Zearo and Salavert Adrien from Grand Hotel de Bordeaux, home of the Michelin-star Le Pressoir D'Argent restaurant.
Our group of just 14 privileged passengers from the Uniworld Boutique River Cruise ship River Royale has strolled from the Garonne River to this majestic luxury hotel for a cooking class in the kitchen of Le Pressoir.
We are justifiably awed.
We are in the gastronomic and wine capital of the world, Bordeaux, France; the hotel lies in The Golden Triangle, the poshest neighbourdhood in this city; and we are gathered in the kitchen of a Michelin-star restaurant with real French chefs.
While we don our aprons, Zearo outlines what we'll be up to this morning: two hours of cooking and two hours of eating and drinking.
Sounds tres bien to us.
The lunch menu: seared duck foie gras with cherries sauteed in Kirsch to start; wild trout from the nearby Adour River with lemon caviar and truffles as the entree; and fresh strawberry and coconut tart for dessert.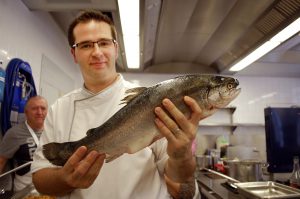 Zearo, the French chef with the Italian name, puts us to work immediately pitting cherries with knives far sharper than we're used to.
All 14 in our group take a quick turn and we end up with a sorrowful output of 14 pitted cherries.
The chef obviously forsaw this happening and produces a huge bowl of cherries he'd pitted earlier from the refrigerator.
Like cooking shows on TV, our culinary class with have such time-lapse sections to speed up preparation, cooking and eating.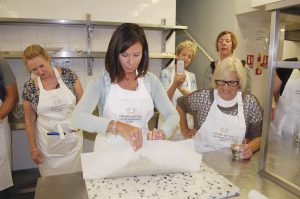 While never quite creating the symphony French chefs do in a busy kitchen at a upscale restaurant, our group does its best replica of foie gras and fish cutting, butter melting, cherry flambing, onion chopping, seasoning, mixing and whisking.
Without measuring, mid-way through the preparation of the sauce for the trout Zearo announces: "Because we are French we will add lots of butter."
A little later, while my wife and I are helping pastry chef Salavert Adrien, we again hear the more-butter-the-better refrain.
This time in relation to both the biscuit crust and coconut filling for the strawberry tart.
The best part of any cooking class is eating the results.
So, self-satisfied with our efforts in the kitchen, we take off our aprons and head to the sumptuous and chandeliered dining room of Le Pressoir.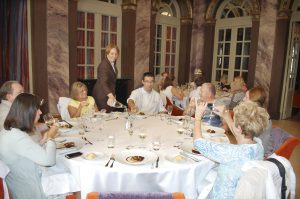 There, the hotel's events supervisor, Karolina Trepinska, is pouring Moet champagne in equal parts welcome and congratulations.
We sip while the chefs are busy plating our food and are then seated and served in three glorious courses.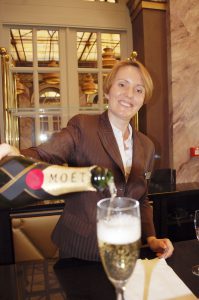 The chefs sit with us to eat and all we talk of is the food.
The foie gras is the pefect contast of sweet cherries and fat duck liver.
The trout is perfection.
And do you think we can cut down on the amount of sugar, cream and butter in the tart recipe?
The short answer: no.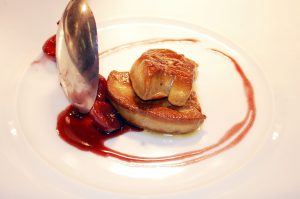 We have such a good time we have to retreat to the boat for a nap and then return to the Grand Hotel de Bordeaux for drinks and eats on the rooftop terrace, Night Beach.
Of course, all this is in keeping with the gourmand theme of our seven-night Uniworld cruise on the Garonne and Dordogne rivers and Gironde Estuary roundtrip from Bordeaux.
I count at least six other times on the River Royale or excursions we indulge in foie gras, all paired with wines, of course.
The riverboat is luxurious with French-boudoir staterooms, gourmet meals in the Le Bordelais dining room, champagne always being poured in the Gascogne bar and a top deck for lounging and panoramic views of the water, historic bridges and passing pretty French villages.
There will also be cycling through vineyards and sipping at grand chateaus in the Medoc wine-making region; a hillside lunch in another famous wine area, Saint-Emilion; a walking tour of the town named after the big-nosed muskateer, Bergerac; and a winery lunch in the sweet wine capital of the world, Sauternes.
Uniworld's seven-night all-inclusive cruise through Bordeaux starts at $3,500 per person based on double occupancy.
Check out Uniworld.com.