By Steve MacNaull
"The enemy is coming. We have to run," barks Olavi.
And off he bolts, the leather of his tunic flapping
His make-believe wife, Kairi, follows, her cape with fur collar rustling madly.
Luckily, I had a quick chance to chat with Olavi and Kairi and snap a photo before they took off.
They are dressed up as medieval nobility for Old Town Days in Tallinn, the capital of Estonia, the little country hugging the Baltic Sea between Latvia and Russia.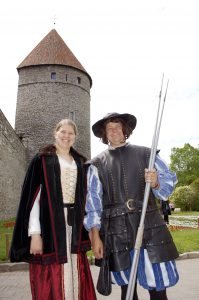 They are recreating what it was like hundreds of years ago for the oft-conquered people of this proud nation.
Through history Estonians have been under the power of Denmark, Germany, Sweden, Poland and Russia.
Such a tumultuous ride means the independence enjoyed since the U.S.S.R. fell apart in 1991 is savoured and commemorated annually with Old Town Days.
My wife and I and our 12-year-old daughter have arrived in this relatively unknown destination aboard the Disney Magic cruise ship.
This year, Disney returned to the Baltic after a five-year absence, and we're glad they have.
Round-trip from Copenhagen, the itinerary also includes stops in the other fascinating Northern European ports of St. Petersburg, Russia, Helsinki, Finland and Stockholm, Sweden.
In Estonia, we signed up for the Towers of Tallinn excursion to wander two kilometres of the city's well-preserved protective walls and climb observation towers.
"This one is called the Virgin Tower," said tour guide Terje without any hint of irony.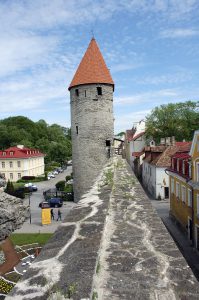 "It was the prison for the ladies of the night, so I don't think any virgins were ever held there."
There's also the Keiekin Tower, which was integral in protecting the city from Ivan the Terrible in 1562.
Most of the remaining 26 towers these days have been converted into funky apartments, artist studios and souvenir shops.
At Koismae Tower, formerly used for cannonball storage, Vambo Kaeri now forges good-luck coins for tourists and displays art on the stone walls of four levels.
By the time we wander into the sunny main square it's time for lunch and a drink at Tallinn's oldest cafe, Maiasmokk, dating from 1806.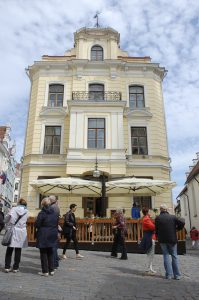 We snag a table on the patio and order the smoked-chicken quiche and the national beer, A. Le Coq.
We finish with marzipan cake, after all, the addictive blend of ground almonds and powdered sugar was orginally created in Estonia.
At first it was considered medicine, but since it tasted so darn good it became a confectionery.
Being in Northern Europe doesn't stop Estonians from enjoying summer.
The days and evenings are warm and restaurants and bars celebrate all season long with inviting tables outside and menus heavy on the Estonian favourites of cheese, meat and potatoes.
But being on the coast there's also plenty of seafood and a lot of continental European influences are reflected as well.
Back on the recently-renovated Disney Magic my daughter and I repeatedly ride the new AquaDunk, the waterslide that juts out over the ocean and starts with a vertical drop from a plexi-glass capsule with  trap door.
We also dance along top deck with the debut of the new movie-inspired Frozen show, introduced for all Europe and Alaska sailings of Disney ships this summer.
We caught the boat in Copenhagen, Denmark after flying from Edmonton in business class on Icelandair to Reykjavik and connecting.
Icelandair is promoting itself as a hub for European flights and encouraging stopovers in Iceland of up to seven days without any extra airfare costs.
Icelandair also flies non-stop to Reykjavik from Vancouver, Toronto and Halifax.
Check out DisneyCruises.com and Icelandair.ic.