By Steve MacNaull
Bits of gravel spray from the tires as Paolo Saint-Laurent abruptly brings is bicycle to halt on this country road bracketed by vineyards.
"We have to stop here because we are entering the most famous wine region in the world," says the guide from Bordeaux-by-bike.com.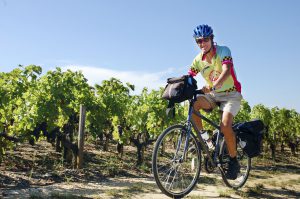 "We have Chateau Lafite-Rothchild up there and Chateau Mouton Rothchild right here."
Everyone in our tour group makes the appropriate impressed nods of recognition under our bike helmets.
And then we take off for Mouton Rothchild in a zig-zag of cyclists who only mount two wheels on holiday with wine as bait.
We arrive at the back shipping-and-receiving door of Mouton Rothchild and even it is architecturally stylish.
Standing in the shade straddling our bikes in the midst of Paolo's speil about about famous Bordeaux wines fetching outrageous prices, a sharp-dressed and sharp-tongued woman in high heels clatters over and shoos us off.
I speak very little French, but I understand from her clipped tone and pointed hand gestures we are not welcome here.
After all, Mouton-Rothchild is all ornamental gardens, imposing edifaces and tidy rows of grape vines, suitable for refined wine lovers who have made appointment, not a rag-tag group of cyclists who arrived unannounced.
This is an experience you can only get as a guest aboard the Uniworld Boutique River Cruise through the storied Bordeaux wine region in southwestern France.
When the 135-passenger luxury boat docks in Pauillac, on the left bank of the Gironde Estuary, most of the baby boomers on board have visions of easy, picturesque biking and sips of cabernet sauvignon.
"Everyone wants to cylce though the vineyards in Bordeaux," says Paolo.
"It's just so famous and atmospheric."
So Paolo then leads us in a beeline to Chateau Pontet Canet, a biodynamic winery with a much more laid-back vibe.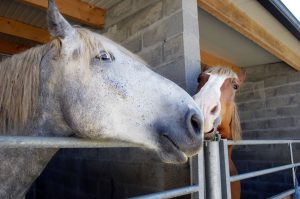 The back door is lined with stables, not architectural showpiece, leading to a discussion of the merits of using horses for ploughing, pruning and fertilizing vineyards dictated by the phases of the moon.
There's more cycling along sunny country roads surrounded by vineyards and pit stops to admire vines heavy with red cabernet sauvignon grapes.
By the time we pull up at Chateau Lynch-Bages we're thirsty, first for a swig from our water bottles and then sips of the legendary blends of grand cru cabernet sauvignon and merlot.
Under the tutelege of winery guide Mylhene Martin we are treated to a bit of theatre in her delivery of the facts and figures and finally glasses of the 2007 vintages.
Back on board the luxurious Uniworld River Royale virtually everything is winecentric.
The cruise starts and ends in the city of Bordeaux and glides to the ports of Blaye, Libourne (for Saint-Emilion) and Cadillac (for Sauternes) for winery visits.
The gourmet meals in the ship's Le Bordelais restaurant are always paired with local wines.
And the onboard oysters tastings, paired with Tutiac sauvignon blanc Bordeaux white wine, are overseen by River Royale chef, and Bordeaux native, Franck Chauvaud.
Uniworld does river cruises all over Europe, in Russia and Asia and next year starting in India.
The seven-night all-inclusive Bordeaux itinerary starts at $3,500 per person based on double occupancy.
Check out Uniworld.com.