A Disney Cruise stop in Stockholm allows you to be a Dancing Queen and take shots at Icebar.
My wife has joined the 1970s super-group ABBA.
She's up on stage right now performing the smash hit Dancing Queen, come on, singalong (young and sweet, only 17) with Anni-Frid, Bjorn, Benny and Agenetha.
Mind you, her bandmates are holograms, the Dancing Queen music is from a karoke track and this is no packed concert hall, it's the ABBA Museum in Stockholm, Sweden, ABBA's hometown.
Arriving in Stockholm via the Disney Magic cruise ship, my wife is single-minded.
We have to race to the museum to be there as soon as it opens.
In fact, we arrive 15 minutes before the 10 a.m. opening, but we are by no means first in line.
Every other tourist seems to have the same idea and there's a snaking line up.
So before we even get to buy our $25 tickets to gain entry we hear a good chunk of the ABBA catalogue blared from loudspeakers, from the most-famous Dancing Queen, Mamma Mia and Waterloo to Knowing Me Knowing You, Money Money Money and SOS.
Technically, this is the Swedish Music Hall of Fame, but the large ABBA component was added in 2013 and everyone is here to paid hommage to famous quartet.
Thus, the other artists, can you name another Swedish musician anyway?, are largely ignored by the crowds.
For ABBA aficionados, like my wife, the gratification is immediate.
There's a gaudy line up of the stage costumes and platform boots that could only be from the band's 1970s heyday.
There are walls of platinum records, a recreation of ABBA's recording studio, reams of photos and band tidbits, a couple of dance rooms and the aforementioned concert mock up where my wife and a string of other zealots take to the stage for a moment of nostalgic glory.
It's a morning of kitsch befitting the hottest pop band of the 1970s and one of Sweden's greatest exports to the world, right up there with IKEA, H&M and Volvo.
While my wife is a rabid fan, I consider myself a lapsed fan and our 12-year-old daughther, who's been dragged along, wavers between disinterest and disgust.
But that's the staying power of ABBA.
Even if you never bought one of their records or claim to not to like the music,  ABBA hits have stood the test of time.
After all, everyone knows the chorus to Dancing Queen and Mamma Mia (here we go again, Mamma Mia, how can I resist you).
So I guess I can either be proud to say, or ashamed to say, I still remember as a tween in 1976 excitedly buying ABBA's Arrival album, the one with the picture of the band landing in a helicopter.
ABBA's music has only gained momentum since the band broke up in 1982 with the smash Mamma Mia musical opening in 1999 and still playing worldwide and the blockbuster movie of the same name hitting screens in 2008.
We decided to keep all our activities in the Swedish capital firmly entrenched in pop culture.
So, it's off to Icebar at the Nordic C Hotel.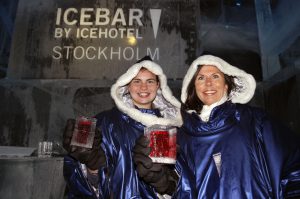 As its name indicates, the bar is completely made of ice and kept at at frigid -7C year-round.
Outfitted in capes with hoods and gloves, we enter the chilly environ and order the signature Wolf Paw cocktail of lingon berry juice and vodka in a glass made, of course, of ice.
All patrons talk about is how cool, literally and figuratively, this place is.
We do fit in a bit of historic culture with a quick whip around Old Town to admire the Royal Palace and have a Nordic beer in the square where the Nobel Prize Museum is.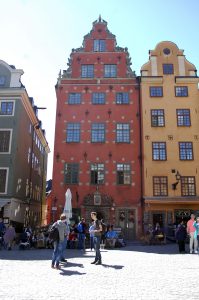 When police clear the square for a motorcade of black BMWs we speculate it's for Sweden's King Gustav.
We later learn it was for the visiting president of Tanzania.
And we've thus come full circle, because ABBA first performed Dancing Queen on
June 18, 1976
to honour the future Queen Silvia, who would marry Gustav the next day.
Disney Cruise line has returned to the Baltic after a five-year absence and we're happy it has.
Besides the stop in Stockholm the ship also glides into Tallinn, Estonia for Old Town wanderings, St. Petersburg, Russia for a canal boat ride and Helsinki, Finland for a vist to a reindeer park.