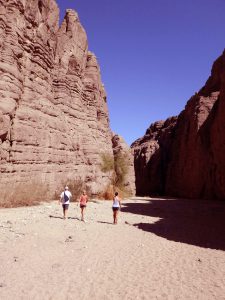 By Steve MacNaull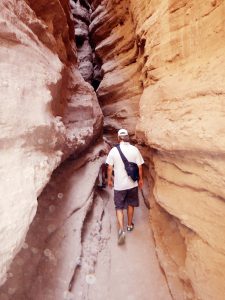 Painted Canyon is the perfect place to hike and work off the excesses of the night before.
While everyone else in Palm Springs is touring gleaming mid-century homes or lying poolside sipping margaritas, we're hoofing it through a canyon. The desert sun is pounding down and at least two of the four in our group are complaining of pounding headaches.
After all, we'd had our own Palm Springs moments the night before swimming in the infinity pool followed by copious amounts of steak and California cabernet sauvignon.
So, this eight-kilometre hike through Painted Canyon is a bit of a penance.
Hungover or not, there's no denying the beauty of this geographical anomaly.
The canyon is in Mecca Hills, a 55 kilometre drive southeast of Palm Springs, an area formed by the North American Plate and Pacific Plate smashing together and buckling up along the San Andreas Fault.
Never mind that this region is long overdue for a major earthquake, we are here to hike and enjoy it before something catastrophic happens.
That catastrophe may be the first ladder.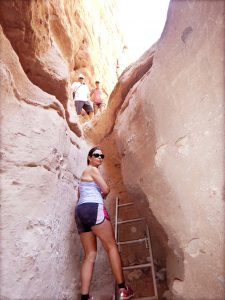 Our hosts, the couple that have a vacation home in nearby La Quinta, failed to mention to my wife and I the ladder loop hike we are doing features a half-dozen ladder climbs because the trail is too steep in places to scramble up on your own.
This ladder isn't the industrial-strength structure you'd expect to find along a trail frequented by hundreds of hikers a day.
Instead, it's just one of those flimsy aluminum ladders we all have in our sheds.
It's a little crooked, planted in the sand at the bottom and barely reaching the top of the incline.
Our hosts gamely climb up, after all, they'd done this route before.
I traverse it with silent trepidation and my wife noisily balks until group encouragement convinces her it can be done.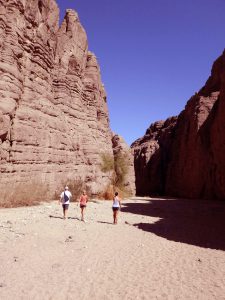 We're rewarded with otherworldly scenery. At the top is a small sandy bowl surrounded by rock outcroppings that squeeze the sky and play with streams of sunlight.
At times the trail is but a narrow passageway, at others a wider slot canyon.
And this is where Painted Canyon lives up to its name.
Depending on where the shadow and light hit and the strength of the sun, the rock walls, layers, outcroppings and piles of boulders can be boring grey and brown or subtle pink, red, purple and green.
There are more ladders, but we don't mind now.
At the summit, there's a plateau where we feel like we're on top of the world.
There's a 360-degree view of mountain peaks and the Coachella Valley in the distance where the Salton Sea glimmers like a mirage.
We continue down into the main canyon, using another ladder to help with the descent.
We complete the eight-kilometre ladder loop in two hours and 15 minutes.
The guidebook indicated it would take four hours.
So we reward our speed and agility by going back to our friends' place and, what else?, have margaritas by the pool.