By Steve MacNaull
Oceania cruisers have the exclusive opportunity to make pizza from scratch and bake it in an outdoor wood-burning oven at a winery.
Chef David Gastaldin's hands are a blur over the pizza dough.
"You have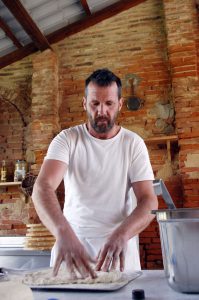 to move fast," he says in his Italian accent.
"This is my grandmother's recipe. It's the same fine flour, water, yeast and salt as every other pizza dough, but the key is to knead quickly using your palms and heels of your hands. Never, ever use a machine."
He takes a momentary break to dust his hands and the giant marble tabletop again with flour so the dough doesn't stick and then his hands are a blur once more.
Our group is taking the pizza-making class of all pizza-making classes.
We've come off a Oceania Cruise in Livorno, on Italy's west coast and shuttled quickly to Torre A Cenaia Winery in the much-romanticized countryside of Tuscany.
Exclusive for Oceania guests booking Culinary Discovery Tours, chef David tours foodies around the 500 hectare property with a horse and wagon and stops in the middle of a field at a ruin of a farmhouse.
The most-maintained feature at the house is an outdoor 200-year-old wood-burning brick oven.
While we wait for the fire to reach exactly the right temperature, we make and knead dough.
Oh, forgot to mention, we're also sipping glasses of Torre A Cenaia chardonnay-sauvignon blanc handed to us upon our arrival by the winery's public relations director Alessandra Mascagni.
Apparently it's the perfect wine to consume while preparing pizza.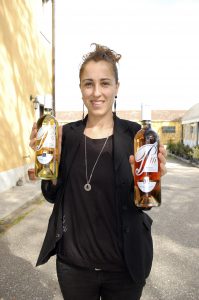 David quickly disappears from the outdoor kitchen around the corner to check the heat of the wood-burning oven.
"I know my oven," he announces.
"It's almost ready."
So the chef expertly spreads his ball of dough into pizza-shape on a well-floured wooden paddle and assembles the most-basic of pizzas, a margherita with fresh tomato sauce and coursely-grated mozzarella cheese.
"Simple is best," he declares.
"The fewer the toppings the better. I like classic margherita, but you can maybe add peppers, onion or sausage."
He slides his creation into the oven and then everyone in our group follows David's lead and commences spreading dough and topping pizzas.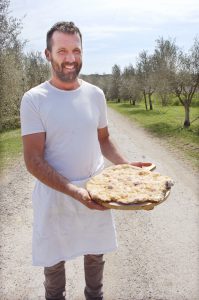 The only extra topping I add is peppered-Tuscan sausage made with meat from the pigs raised on property and a splash of the estate-bottled chianti from the winery.
The pizzas start coming out of the oven in rapid succession and we're seated at a long-communal table under umbrellas beside this pastoral crumbling farmhouse.
The group becomes even more animated as we verbalize this is exactly the idealized scene of Tuscany we imagined.
Alessandra pours a generous round of Torre A Cenaia rose.
"Rose is actually the perfect pairing for pizza eaten outdoors, not red," she explains.
We praise the wine and compliment each other profusely on the pizzas each made and are now sharing.
Conversation at the table turns to how we all want to build wood-burning ovens in the our backyards and install marble countertops in our kitchens when we get home.
"Oceania passengers cruise as much for the food and wine as they do the ports," says Oceania executive chef Kathryn Kelly, who is accompanying our group.
"It's only natural we come to a winery in Tuscany for an exclusive hands-on culinary experience like this."
These one-of-a-kind Culinary Discovery Tours are only offered from the luxurious 1,200-passenger Marina and Riviera Oceania ships plying the Mediterranean and Baltic seas.
There's also a tapas excursion in Barcelona, market visits and wine-and-food pairing in the South of France and a Cretan cooking class in Greece.
It's worth flying Lufthansa in business class to Europe so you can recline all the way back to sleep and arrive refreshed and ready to enjoy all the culinary, cultural and on-board activities Oceania Cruises offers.
Check out OceaniaCruises.com.