By Steve MacNaull
Our waiter has just the right amount of attitude.
After all, our tour group is in France, in the gastronomic and pastoral elegance of Provence no less, and we are dickering.

Should it be the asparagus salad or chilled mackerel to start?
Baked Mediterranean fish or braised lamb for a main?
And, oh, lemon tart or crème brulee for dessert?
Of course it's a matter of concertation because this is the Hotel Auberge la Feniere restaurant of Michelin-starred chef Reine Sammut, the only woman in France with such a lofty designation.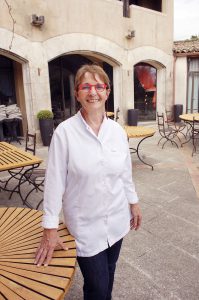 We want our orders to be perfect, to capture what is Provence and capitalize on having a South of France superstar cook for us.
Meantime, our waiter is a little impatient.
We don't hesitate in ordering several bottles of rose wine as Provence is famous for the stuff.
I finally decide on the asparagus, the beautiful Med fish called maigre and the oh-so-tart-and-sweet lemon dessert.
I'm blown away by the food's freshness, the simple elegance of preparation and the tres bien taste.
This is an experience you can only have with Oceania Cruises.
When the upscale 1,200-passenger Marina or Riviera ships dock in Marseille, only 24 guests have the exclusive chance to whisk off to the heart of Provence, browse the farmers' markets of Aix-en-Provence and visit with chef Reine.
"We carefully research and pick these experiences so guests have a unique, interactive and small-group culinary experience," says Kathryn Kelly, Oceania's executive chef who designs the Culinary Discovery Tours and heads up the onboard Culinary Centre cooking classes.
After we devour lunch, we are invited into chef Reine's kitchen.
She gladly answers the queries we have about our lunches and then she invites us to don aprons, claim a work station and make a braised artichoke dish with her.
Naturally, it's delicious.
Along the way we learn the chef happily served up seasonal and mouth-watering Provencal meals at her modest restaurant in the tiny village of Lourmorin for 20 years before the Michelin committee turned up for a taste.
They were impressed and bestowed a Michelin star.
"That was in 1995," chef Reine remembers.
"It changed our lives. All of a sudden people from around the world wanted to come to my restaurant. We had to buy an estate, open a bigger restaurant and also a bit of a hotel."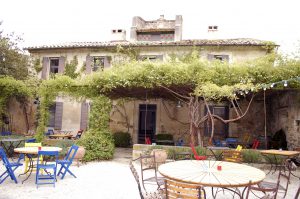 There are air kisses as we say goodbye and our tour group returns to the bus for the drive back to the ship and excited chatter about the incredible experience we've just had.
Tour guide Caroline Rocca tells us the traditional Provencal sport after a world-class lunch and rose drinking is a nap.
So we do just that on our way back to Marseille.
It's worth flying Lufthansa in business class to Europe so you can recline all the way back to sleep and arrive refreshed and ready to enjoy all the culinary, cultural and on-board activities Oceania Cruises offers.
Check out Lufthansa.com and OceaniaCruises.com.