We recently spent 4 nights on board the MS Victor Hugo for the 'Belgium's liquid gold' beer-themed  Croisi Cruise.
A budget friendly introduction to river cruising, the ship was smaller than other river cruises (just 98 passengers), which allowed for navigation of smaller rivers and canals that the bigger ships can't.  Boarding in Brussels, the ship spent the first night docked overnight, so we could get up and head out for a nice walk the next morning. Then it was back to the ship for lunch and then off for our first brewery tour.
Belgians are serious about their beer…..and it's serious beer! The alcohol levels range from 5% to 14%! Yikes. A couple of those and I'd be in trouble.

Our first brewery called Wat Anker was originated in the 17th century and is made in a very traditional style. The tour was good (but hot!) and we learned all about how the beer is made, the special Scottish yeast they've used since the very beginning (which had to be smuggled in) and all the various ingredients they use to flavour their liquid gold.
There are a LOT of stairs at some of the breweries….which makes you feel slightly less guilty about all the beer you're slurping…..at least you're burning some calories off!  But it would be a challenge for anyone with mobility issues.
Next up was Duvel (which we can get in North America). Literally translated, it means 'Devil' and was so named by a local man who tried it and said something to the effect of, "Wow – that's a devil of a beer!" It's about 9% alcohol and quite tasty. Of course, after a few of those, you'd be able to taste very little!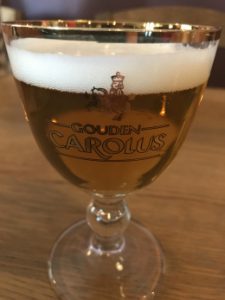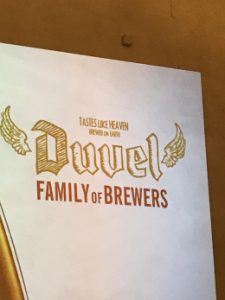 Here's what we've noticed about Belgium so far: the people seem friendly, the towns (outside of Brussels) are very tidy and clean, and the little houses are quite cute and well cared for.
As you float along and watch the world go by, you get to see lovely vistas of Belgium….such a beautiful country!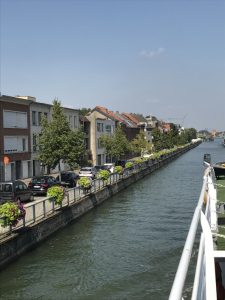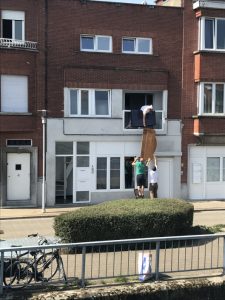 Check out this shot of moving day.  Pretty sure that standing on that chair wasn't the best idea! haha….
Once docked in Antwerp, we strolled into the city center, finding the stunning main square, and of course, a bar to try the local brew (as if we didn't have enough during the day!) It's called De Konink and was very good.
It's thanks to a fable about a giant who was mean to the townsfolk. Eventually the giant was killed by a young hero named Silvius Brabo, who cut off the giant's own hand and flung it into the river. Hence the name Antwerpen, from Dutch hand werpen, akin to Old English hand and weapon (to throw), which has evolved to today's warp.
Here's the statue in the main square – and as you'll see Silvius is throwing the giant's hand….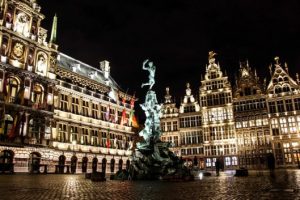 As for the cuisine of Belgium…..besides Beer (which is evidently a food group here) – you'll see a lot of mussels on menus. If I had a Euro for every time I saw a sign like this one at a local restaurant, I'd be able to retire!
Bruges was stunning – a must when in Belgium.  This quaint canal village is charm defined!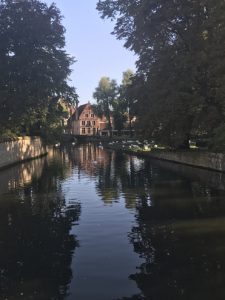 Most unexpected for us was our final stop in Oostende.  This coastal city on the North Sea was friendly with a great vibe and selection of accommodations, dining and shopping.  We even found great beach bars to enjoy a warm summer's evening with new friends.
Cheers to Belgium!  This country may have turned this wine lover into a beer fan!