By Steve MacNaull

My ski companion tells me to keep my head up and stop fixating on the
tips of the skis.
I immediately correct my gaze to the horizon, my stance improves and
I start gliding down the slope smoothly with confidence.
I have the best instructor on the planet – Olympic gold medalist
Nancy Greene.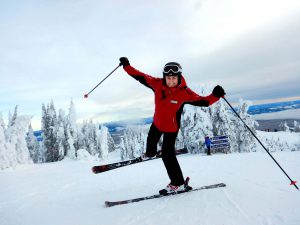 We're on the gloriously wide-open 5 Mile run at Sun Peaks Resort,
just north of Kamloops, British Columbia were Greene is director of
skiing.
"You ski well, you're just a little rusty," she comments.
Whether it's a back-handed compliment or not, I'll take it.
After all, Greene is a ski goddess.
She may have won her giant slalom championship almost a half-century
ago at the 1968 Grenoble Games in France, but she is still an
effortless and graceful skier at age 72.
She's remained a household name since the Olympic win by making ski
tourism promotion her life's work, resulting in accolades from
Canadian female athlete of the century to serving in the Canadian
Senate.
Naturally, I feel like a VIP to be skiing with such a legend.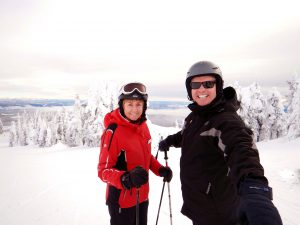 But, the reality is anybody can hang out with Greene.
Every weekend and all school breaks days at 1 p.m. she meets whoever
wants to cruise the mountain with her at the top of the Sunburst
chairlift.
The group ski lasts an hour and a half and besides gleaning some tips
from the gold medalist, you can also ride the chairlift with her to
chat.
"The director of skiing job title means whatever I want it to mean,"
says Greene when we share the chair.
"I think it's important to meet and ski with as many Sun Peaks guests
as possible."
Greene has been skiing with guests for the entire 21 years she's been
at Sun Peaks, but the schedule has been cut back since 2009 when she
was appointed a senator and started spending 28 weeks a year in Ottawa.
"Skiing is more fun than the Senate," she says with a chuckle.
"But the Senate work is rewarding and I feel I can make a difference."
Officially, my wife and I are at Sun Peaks to take in the Winter
Okanagan Wine Festival.
But skiing with Greene was an incredible bonus.
We wander the pedestrianized and snowy main street of Sun Peak's
charming village at night, glass in hand, during the fest's marquee
Progressive Wine Tasting.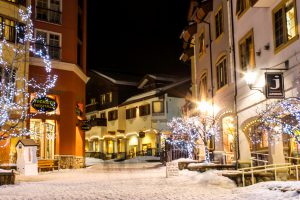 Thirty wineries have set up tasting bars in various hotels,
restaurants and shops for 650 revellers to stop by and sip.
It's billed as winter's best wine party and we agree as we pass
spandexed dancers twirling illuminated hula hoops.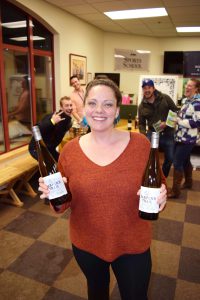 Two of our best wine discoveries are from nearby Kamloops-area
wineries – the dry riesling from Harper's Trail and Monte Creek's
Hands Up white blend named after turn-of-the-century train robber
Billy Miner.
At The Spirited Apres at Cahilty Lodge, which Greene owns with her
husband and Sun Peaks mayor, Al Raine, I bump into Greene again.
She's still in her ski suit and enjoying a glass of Okanagan Spirits'
Pear William brandy before the slopeside fireworks.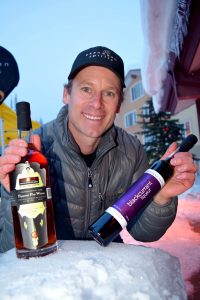 My wife and I say goodbye to Greene to head to The Winemakers' Dinner
at Mantles restaurant at the Sun Peaks Grand Hotel, where we work our
way through an eight-course tasting menu, each paired with a local
wine, of course.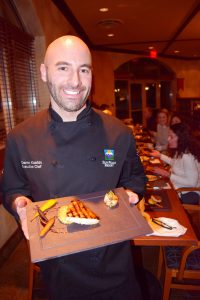 ,
Stand out dishes included the pillowy-soft crab ravioli with Haywire
chardonnay and grilled swordfish paired to Tantalus riesling.
The Winter Wine Festival at Sun Peaks is a 10-day winter party every
year mid-January.
The Okanagan Wine Festivals Society also puts on multi-day events in
the spring, summer and fall at many different venues in the Valley.
Check out SunPeaksResort.com and TheWineFestivals.com.