By Steve MacNaull
As soon as we spy her there at the curb, cherry-red and classically-
beautiful, we have to have her.
She is a 1951 Chevrolet Deluxe convertible and this is Havana, the
motherlode of pristine vintage American automobiles.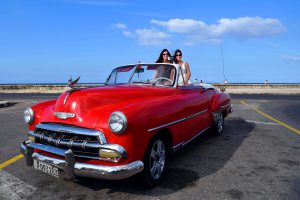 So, my wife and I and our 13-year old daughter approach the good-
looking Cuban guy lounging coolly behind the wheel and ask if we can  have a ride.
Of course.
So, we hire Rafael and his classic wheels for an hour.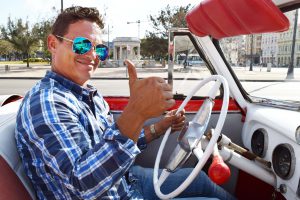 We know it's completely cliche to play tourist in a pre-1960 car in  Havana, but that's the point.
We want to pose, see and be seen, have the wind blow through our hair  and ultimately say we did what we were expected to do in Cuba.
From the tiny Old Havana sidestreet of Tejadillo, we head straight  for the 12-kilometre malecon fronting the Caribbean Sea and  unabashedly cruise.
Rafael puts on his mirrored aviator sunglasses and black cowboy hat
to amp up the hip factor and we smile in the sunshine as we pass
monument after monument.
With me in the passenger seat and the girls in the backseat, photos
are taken, other classic cars with happy tourists are waved at and we
learn a little bit about the '51 Chev.
The car is a multi-generational property, first purchased by Rafael's
grandfather, used as a family and tourist car by his father and now
passed onto him to thrill more tourists.
Cuba, and particularly the streets of Havana, are a rolling car museum.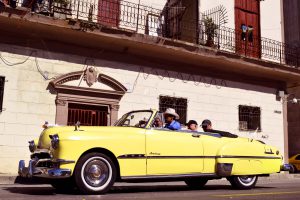 After Fidel Castro took over in the 1959 revolution, the U.S.
declared a trade embargo on Cuba and the flow of U.S. cars and parts
to the island ceased.
Out of necessity and beauty, the pre-1960 cars have lived on, often  with new Russian diesel motors and improvised body work and parts.
Before we know it, we're dropped off back on Tejadillo, shaking hands with Rafael, handing him 20 Cuban pesos and admiring the red Chev one last time.
We celebrate our tourist predictability by finding Bar San Carlos and  ordering mojitos,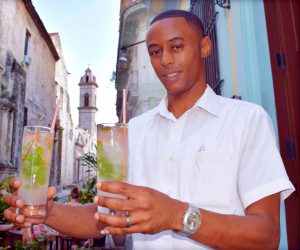 Cuba's national drink of crushed mint, rum, sugar
syrup, lime and club soda.
We squeezed this delightful diversion into the Colonial Havana  excursion we've done from our resort in Varadero.
Like many Canadian tourists to Cuba, we're holed up at a luxury  resort, Grand Memories, in the tourist zone hanging out at the beach,  basking by the pools and eating and drinking at 16 restaurants and bars.
But a trip to Cuba isn't complete without the two-hour trip to the
capital of Havana for some culture and colonial eye candy.
We'll also pull ourselves away from the resort to do the Yumari Jeep
Safari through ramshackle villages, into the rainforest and along the
beach before snoreklling at Coral Beach, swimming in a cave, racing
powerboats up Rio Canimar and having lunch and a horseback ride at
Rancho Gaviota.
Another highlight is a day on a catamaran that pulls up to Cayo
Blanco to play on the white-sand beach and splash in the translucent
ocean before frolicking with dolphins.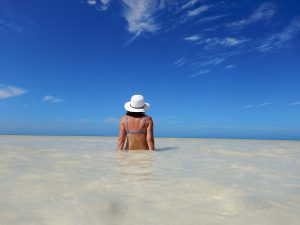 We booked our magical week in Cuba with Sunwing Vacations, the
airline and all-inclusive packager that sends more tourists to Cuba
than any other.
Sunwing flies non-stop to Varadero from 24 Canadian cities.
We also arranged our three excursions through Sunwing's Nexus Tours.
Check out Sunwing.ca.