By AJ Williams
It was pretty much the perfect 'guy's day' in Regensburg, Germany. But I may have enjoyed it as much as my husband did! On a recent Viking Cruise, we stopped in historic Regensburg and had a chance to spend the day in this beautiful, ancient city. It's a microcosm of old and new, and somehow, as if engineered with German precision, it all works beautifully together.
Waking up on the Viking Jarl, a modern, bright, comfortable long ship we've decided is the preferred way to see Europe, we were taken with the view of Regensburg.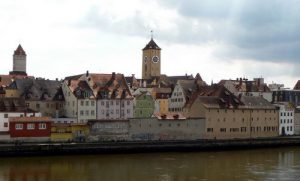 We made our way downtown to the historic Wurstkuchl, which, according to Wikipedia, is possibly the oldest continuously open public cookshop in the world.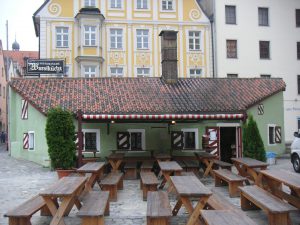 How old? Well they've been making & serving bratwurst here since 1135 – almost a millennium. This tiny kitchen originally provided meals for the workmen toiling to build the stone bridge in Regensburg (also a must see), and over the years hasn't lost any of its popularity.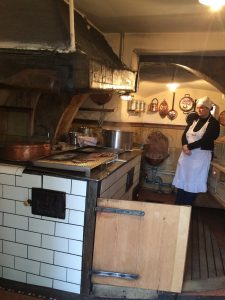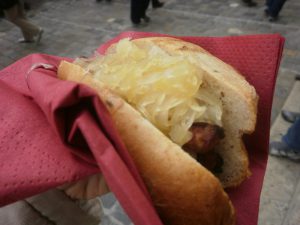 They still serve 6000 sausages to guests everyday. And I can tell you from personal experience, they were delicious! Moist, flavorful, and served on a fresh bun with sauerkraut and mustard. It was only about 9:30am when we were there, but I wasn't passing up an opportunity to try the world's most famous sausage, and I just may have found my new favorite breakfast. Just writing this makes my mouth water and gets me thinking about planning another sausage run in Regensburg soon. After savoring every bite, we made our way around the city on a fantastic walking tour, one of the complimentary daily excursions on Viking.
Regensburg is old. Really old. The Romans built a fort here around 90 AD and you can still see remnants of the old East Tower of the Porta Praetoria from Roman times.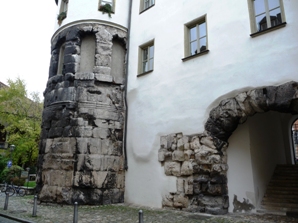 During World War II, the city was relatively undamaged from the bombing campaigns, and the medieval city centre is now a Unesco world heritage site.
Regensburg hasn't rested on its laurels, however, and is now one of Europe's innovation and learning hubs. It's a university town, so you'll find lots of young people (and hence great energy) here. Technology is everywhere and huge corporations have located here, including many in the Biotech, communications, Pharma, engineering, and of course, auto manufacturing sectors.  I did mention BMW, right? After our walking tour, we boarded a coach for the short drive to BMW's Regensburg campus, truly a city within a city. I'd love to show you all the amazing photographs I took in there, gawking at the shiny cars coming off the assembly line, the incredible robotics, the precision quality control I saw on the line, or even the everyday life of this place, but alas, no photographs are allowed inside. I did scoop some from their corporate site, just to show how big the place really is!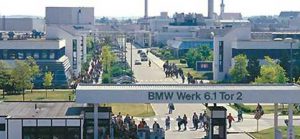 Nearly 9000 people work here, and it's all running as smoothly as, well, a BMW. This campus boasts a huge restaurant (serving 3000 meals a day), hospital, fire department, daycare, and efficient transportation system bringing teams in from as far as 100 km away.   Our BMW guide was knowledgeable, friendly and prideful. And with good reason. These vehicles are works of art and no detail is overlooked. In spite of the incredible use of robotics, each step, every spray of paint, each rivet – they're all quality checked with the white-glove treatment along the line. And their staff are important. They work in teams with folks of the same height. Why? So they can all work the line without some of them having to reach too far up or bend too far down – preventing injury.
And yes, they get a staff discount. These gleaming driving machines are cranked out day and night, and every one of the cars we saw in the factory have already been ordered by a car enthusiast somewhere, who's just waiting to hear that motor purr. My husband loved everything about the tour (I must admit I did too) and resisted the urge to place an order on the spot. The gift shop, however, was waiting for us at the end of our visit, and we manage to find some great souvenirs (of the small, die-cast, no fuel required kind).
We bid auf wiedersehen to BMW and boarded our coach to nearby Kelheim, where we stopped at Weisses Brauhaus, home of Schneider Weiss beer (wheat beer).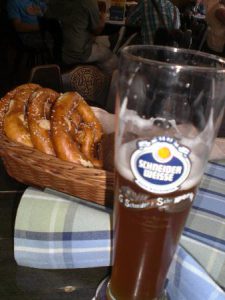 They've been brewing it here since 1607! We hoisted several pints, enjoyed warm, soft pretzels and debated about just which BMW we should order when we get home. All in all, the perfect Bavarian day – Brats, BMWs and Beer. Prost!