By Steve MacNaull
Bruce Walker launches into another riff about the spirituality of horseback riding.
"How can this not be sacred?" asks the owner of Playa Chiquita Riding Adventures rhetorically.
"We have the Caribbean Sea to one side, the jungle on the other and a majestic horse and white-sand beach beneath us."
It's impossible to disagree with Walker, a former American military man who's dropped out to run a riding stable on Costa Rica's remote southeast coast.
My 13-year-old daughter, Grace, and I are atop Tiko and Braggy respectively, and the view is indeed breath-taking.
The sky is pale-blue with wispy clouds, the ocean is green-foam, the jungle a vibrant verte and the sand just wet enough, glistening enough and hard-packed enough to give our horses good footing.
At home, Grace is a competitive hunter-jumper rider, so once we picked Costa Rica as a destination, the next requirement was proximity to some epic tropical horseback riding.
And Punta Uva, Costa Rica delivers.
Walker meets us right at the front gate of our eco-lodge, Tree House Lodge (more about this unique accommodation later), on his own horse, Tia, leading Tiko and Braggy for Grace and I.
His five tail-wagging dogs of all shapes and sizes are also ready and waiting to accompany us.
We're immediately on Punta Uva Beach for two kilometres before meandering along jungle trails and through an abandoned coconut plantation.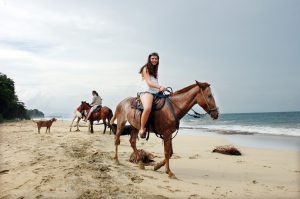 Because Grace is a good rider, he lets us canter on the beach on the way back.
Exhilarating.
There will be more thrills the next day when we take a surfing lesson.
Again we're picked up right from the front gate of Tree House Lodge by Erlindes, nicknamed Ka Boom, from Bamboo Surf Centre.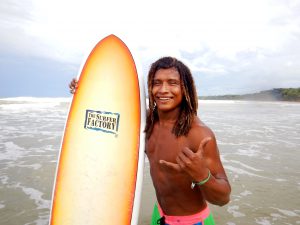 He looks every bit the 'pura vida mae', loosely translated to righteous surfer dude, with his dread-locked hair, six-pack abs and beater 1989 Chevy Tracker truck with three surfboards tethered to the top.
We load in and head straight for Playa Grande Beach, where the waves aren't grande, but beginner.
Ka Boom guarantees success by giving us a quick tutorial on the sand and then getting in he water with us to position us lying face down on the board, pick waves, give us a push, tell us when to paddle, when to stand up and when to get into that I've-got-it, knees-bent surfer stance.
Even when we wipe out, Ka Boom is good for our egos, assuring us it was a "bad wave" instead of us being bad surfers.
Back at Tree House Lodge we riff ourselves about how lucky we are to be having these adventures and staying at such a blow-your-mind place.
As the name indicates, we're in a two-bedroom tree house we found in a quest for unique accommodation on Booking.com simply by searching 'tree house Costa Rica.'
"This is a case where the accommodation itself anchors the experience," said Booking.com senior account manager Melissa Robusto.
"Sure, Booking.com has 1.7 million bookable units, most of them traditional hotels and resorts around the world, but we also have igloos, yurts, castles, monasteries, canal boats, ice hotels, apartments and condominiums,old jailhouses and tree houses for those who don't want a cookie-cutter vacation."
The main floor has a roof, but no walls.
The center piece of the open living room and kitchen is a big, live Sangrillos tree that appears out of the floor and disappears through the roof.
The main floor bathroom again features a live Sangrillo with the shower built into one side, the toilet the other.
The marquee feature, however, is the master suite up in the jungle canopy accessed via two swing bridges from the living room.
It's supported by two live Sangrillos, features a king-sized bed with mosquito net, wrap-around windows, open-air shower in the ensuite and a stream running 20 feet under it.