By Steve MacNaull
Joseph and Alejandro have the Puerto Rico lifestyle all figured out.
Surf Condado Beach's Atlantic Ocean waves in San Juan in the morning and then hotfoot it to work so you can do it all over again the next day.
"Ya, I have to be at work in a half-hour," says Joseph, every bit the buff-and-clean-cut surfer sterotype as he exits the ocean with his modified-short surfboard.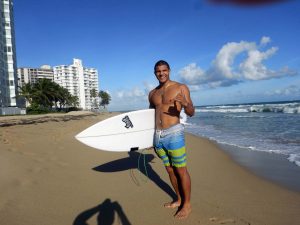 Alejandro echos the sentiment.
"This is the perfect way to start the day," says the dude, who looks more like a hipster than a surfer with his beatnik long beard.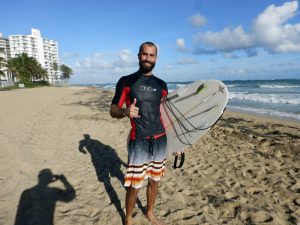 I catch this scene during an early-morning jog in San Juan's highrise-laden Condado neighbourhood.
This place is spectacularly set on a sliver of land with Atlantic Ocean beaches to the north and Condado Lagoon to the south.
Thus urban recreation abounds.
While I'm doing my tourist run, I'm astounded by the number of park aerobic classes, other joggers, beach walkers, sunbathers, cyclists and surfers also out at 8 a.m.
So much so, I have to stop and see what's up with Joseph and Alejandro and snap their pictures.
As a ever-prepared tourist, I always jog with my point-and-shoot camera because you never know when you'll come across the extraordinary.
And Puerto Rico is Caribbean extraordinary at its best.
My son and I are staying just down the street at the Condado Plaza Hilton, a 10-storey tower with a funky mid-century exterior and modern interiors.
The 572-room hotel has spectacular Atlantic views one side, Condado Lagoon views the other.
The vibe is inner-city resort oasis with private beach and snorkelling, pool complex, lagoon-side paddle boarding and kayaking and numerous restaurants and bars, including Pikayo, one of the best eateries in the city.
When my son and I drop by to dine at Pikayo we meet celebrity chef Wilo Benet, who's appeared on TV's Top Chef Masters and has his own cookbook, Puerto Rico True Flavors.
Benet recommends the mixed seafood grill of shrimp, scallops and red snapper and we readily order just that.
It's fresh and delicious and served with Puerto Rico's favourite sides, mashed plantain bananas and rice and beans.
"We Puerto Ricans love multiple starches with our seafood," says Benet with a laugh.
Keeping with the food theme, during a tour of Old San Juan we lunch at Barrachina, the 1963 birthplace of the pina colada.
Of course, we order the cocktail of pineapple juice, coconut cream and rum and match it with the very island dish of mofongo, which is more mashed plantain topped with spiced shrimp, pork and sausage.
When it's time to get out of the city we head an hour east to stay at El Conquistador, a Waldorf Astoria Resort perched dramatically atop a 300-foot bluff.
Here at the eastern tip of Puerto Rico the Atlantic meets the Caribbean Sea and we celebrate the locale by ferrying two kilometres to the resort's private island, Palamino, for jetskiing, hiking and bottles of the national beer, Medalla.
Check out CondadoPlaza.com and ElConResort.com.