By: AJ Williams
Fine dining and great wine is usually important when I'm booking a travel destination. So as a foodie and aspiring wine snob, I wasn't quite sure about the beer and food scene in the City of Roses. However, I decided to trade in my typical dinner party attire for comfy walking shoes and a sense of epicurean adventure. Well actually the first day in Portland, I didn't have the right walking shoes, and I paid for it. However, the shopping there's pretty good (no sales tax!), so that issue was remedied quite quickly!
Unlike many cites where 'Street Eats' are constantly on the move (with lots of smart phone apps to help you track your favorites), Portland's food trucks are mostly organized in 'pods' scattered around town. Very clever. What this means to the average foodie is a lot of fabulous food in a small area, and probably not enough FitBit credits in between bites! The cuisine is as diverse as the city itself, and you can forget finding a run-of-the-mill hotdog stand here! This is gourmet food, served fast & fresh and worth standing in line for! From classic French to incredible Thai food, or Indian and Mediterranean options, I don't think there was a cuisine we didn't see!
If sitting down for a meal is more your style, then visit one of the brew pubs in Portland. Let's just say Portlanders take their beer seriously. Very seriously. Portland is home to more breweries than any other city on Earth. Yes, you read that correctly. It's kind of 'Beervana'. There are beer festivals, beer months, beer tours, and naturally, beer experts who can give you great advice. The brewpubs offer a staggering number of craft beers, and some pretty stellar eats too!   Bridgetown Beer was a highlight, and it's in the city's famous Pearl District, a funky, hipster-filled neighborhood that seemingly goes on forever, with one cool shop and brewpub after another. For breakfast, Bunk Sandwiches, a small but mighty cubby hole of an eatery makes a mean sandwich – and the chef was quick to tell us it's always all about the freshest, best local ingredients. They take their food seriously here too.
Cycling and walking around Portland are great as it's mostly flat, and the public transit system is also brilliant. A $1 fare will give you 2 hours on the streetcar, and if you should get on the wrong one (as we did), you'll get a great tour of Portland while resting your feet! Don't worry – they always seem to end up where they started! If you want to cycle, you can rent bikes, or if you're staying at the uber-funky and very comfortable Kimpton Monaco as we did, they'll loan you some. Just be sure to be back before their complimentary happy hour. Such a great way to enjoy some local craft beers and wines and relive your adventures while meeting interesting people!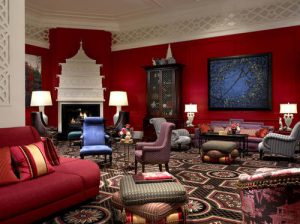 Try to be in Portland on a Saturday to take in the Saturday Market. It's an eclectic mix of artisans, food trucks and people watching!
Portland is also home to lots of tech and large companies and is rife with innovation. Especially if it involves fitness & beer. Like the BrewCyclePortland.com concept – a cycle-powered bar that has folks seated on both sides who partake in a pedal-powered pub crawl. You stop at several craft breweries, sample their finest, then hop back on to cycle as a team to the next one. Now that's an exercise trend I can get behind!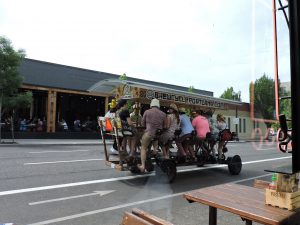 Of course, you'll need to top off your day of grazing and beer with dessert. Voodoo Doughnuts is legendary – and worth the lineup. We tried the fritter (about the size of an average dinner plate!) and the maple bacon bar. Sinfully delicious.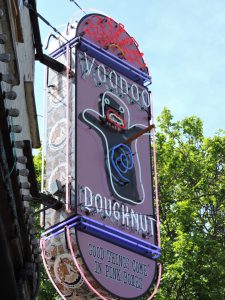 Some cities have a great vibe. Portland IS a vibe! It's hip, young, fun, and while not as instantly top-of-mind as Seattle or San Francisco, put it on your list. It's less expensive and equally trendy! It just may convert you into a craft beer loving street food snob too!