Couple learns more about this Italian island, including how to get the ultimate wine and cheese reward.
by Steve MacNaull
One only has to sip chilled Vermentino to fall in love with Sardinia.
My wife and I are at the stylish Surrau Winery on the Italian island and all is la dolce vita.

We're seated in the winery's vaulted-glass showpiece restaurant with glasses of Vermentino di Gallura white wine and the island's famous hard, salty sheep cheese called percorino sardo.
The view is over Gallura's rolling hills, which tumble down to Costa Smeralda and the Mediterranean Sea.

We half paid attention during the preceding winery tour in which we learned Vermentino grapes are native to Sardinia and make a delightful wine with bright citrus acidity and stony minerality.
The grapes also benefit from facing the Med and maturing in its reflected light.
All very informative.
But really, we just want to taste the wine.  And we're rewarded with an hour in the restaurant.

The foray to Surrau is part of an excursion from the Regent Seven Seas Explorer, the new cruise ship that touts being the most luxurious ever built.
A little more about the ship in a moment.
But first, more Sardinia surprises.

My wife and I knew it is an island off the west coast of Italy, but little more.
In fact, it's the second largest island in the Mediterranean behind the more famous Italian island of Sicily.
On the Costa Smeralda excursion we learned the coastline on this northeast part of the island is a haven for European holiday makers, especially those with mega-yachts.
In fact, some of the last paparazzi shots of Princess Diana in August 1997 were of her dangling her feet over the side of a super-yacht just off Costa Smeralda before she made that fateful trip to Paris.
Before boarding the Explorer back in Olbia we're drawn onto the patio of In Vino Veritas bar by its huge display of wine bottles for another glass of Vermentino.

The Explorer will also make stops in Toulon and Saint Tropez in the South of France, Barcelona and the principality of Monaco for more Mediterranean wanderings.
In keeping with our self-appointed drink-local eat-local theme we quaff Codorniu Benjamin cava with our tapas in Spain and down quintessential rose from Provence accompanied by salad Nicoise.
True to its claim as most luxurious in the world, the Explorer carries only 750 passengers in all-suite, all-balcony, all-inclusive splendor.
Our concierge suite has a king-size bed facing the ocean, generous balcony, walk-in closet and marble bathroom with separate tub and shower and double-vanity sinks.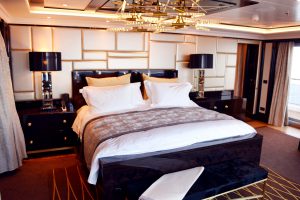 In fact, we declare the double vanities real game changers while both getting ready for dinner.
By the way, dinners are spectacular.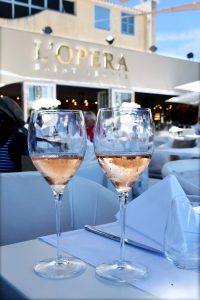 The sea bass we had in the Compass Rose main dining room was fresh from the Med.
But the specialty restaurants amp it up even more.
We had perfect filet mignons at Prime 7, lobster curry at Pacific Rim and delicate Dover sole in cream sauce at Chartreuse.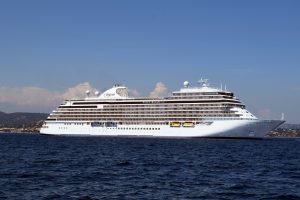 The Explorer has the highest crew-to-guest ratio on the high seas, 552:750 for intuitive service.
The starting price of US$7,200 per person for a week in the Mediterranean may have some initial sticker shock.
However, when you consider it's all-inclusive from business-class flights to and from Europe (we flew with Air Canada into Barcelona and out of Nice), spacious stateroom, all excursions, dining and drinks, it provides incredible value, according to Regent.
Check out RSSC.com.