Viking has perfected the ocean cruise!
Tucked aft on deck seven is the most fabulously well-located infinity pool.  The clear pool water, delightfully and deceitfully, melds seamlessly with the azure of the Mediterranean Sea and the blue of  the sky on the horizon.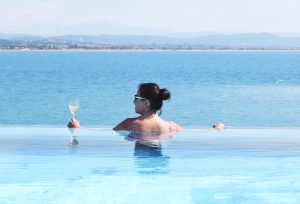 As such, it immediately and naturally becomes my wife and I's  favourite hangout on the new Viking Sky cruise ship.
It's the ideal place for a morning dip, the perfect precarious perch for sail aways and a refreshing respite on hot afternoons.
Long a master of river cruising in Europe, Viking has taken the  ocean by storm with elegant mid-sized ships carrying just 930 passengers each in all-inclusive style.
Most ships have sunken pools mid-ship. Viking ships have one of those too, but it has perfected the infinity pool on its fleet of ocean liners, first the Viking Star,  then Viking Sea and now the brand-new Viking Sky. Viking Sun will be delivered by year end and Viking Spirit will join in 2018.
"I'm proud to be working for Viking because it's a company with  vision," says Viking Sky Captain Robert Bamberg when my wife and I  meet him on the bridge.  The captain has just finished maneuvering the Sky into Kotor, Montenegro, which is nestled at the end of a 25-kilometre submerged  river canyon that makes up Europe's southernmost fjord.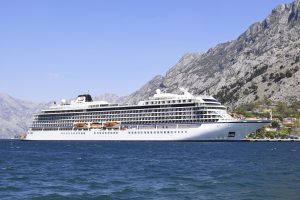 He's animated about this port and the entire 10-day Empires of the Mediterranean itinerary from Athens to Venice, which also has stops on the Greek islands of Santorini and Corfu, Dubrovnik, Croatia and Koper, Slovenia.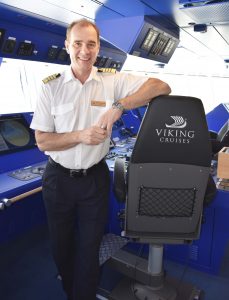 We feel like VIPs chatting with the captain in his cockpit.  But the reality is, Bamberg is very accessible.
He hosts a reception for returning Viking cruisers, is introduced  at the welcome reception and invites passengers to meet him and tour the bridge during special events you have to pre-register for.
All staterooms aboard Viking's oceangoing vessels have private balconies and beer and wine are included at meals in the buffet and  main restaurants, the specialty Manifredi's and Chef's Table restaurants and the outdoor Aquavit Terrace.
The Liv Nordic Spa is open to all and features a giant warm  whirlpool, steam room, snow grotto, cold-bucket and experience showers.
There's also an included excursion in each port.
In Santorini, my wife and I choose wine touring; in Corfu, mountain  biking; in Montenegro, we climbed Kotor's city wall; and in  Slovenia tracked with Liza, the truffle-hunting dog.
The Viking Sky will spend the spring and summer doing Mediterranean and Baltic itineraries.
Then it will make its maiden transatlantic crossing to Montreal to  sail Canada-and-New-England routes before heading to the Caribbean for the winter.
My wife and I flew to and from Frankfurt with Air Canada on its new  787-9 Dreamliner to connect to flights to Athens and from Venice. It's worth splurging to upgrade to business class with its lie-flat seats for sleeping to arrive in Europe rested and ready to enjoy the cruise.  We also extended the indulgence with pre-and-post stays at the Grande Bretagne in Athens and Danieli in Venice, which are both in  Starwood Hotels' The Luxury Collection portfolio.
Check out VikingCruises.com, AirCanada.com and  TheLuxuryCollection.com.