It doesn't get more quintessentially Canadian than maple leafs, Mounties, maple syrup, moose and mountains.
That's exactly why Atlantic Luggage has plastered the Canuck motifs all over the hard-sided suitcases in its Canadiana Collection released to celebrate the country's sesquicentennial.
Of course, there's more to The Great White North than m-word alliteration, which is why the Canadiana pieces also feature patchwork illustrations of totem poles, beavers, Canada geese, hockey players, toboggans, snowshoes, the CN Tower, canoes, howling wolves and inuksuk.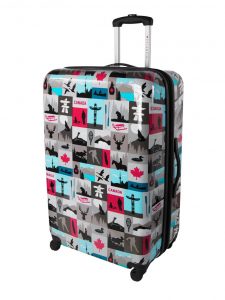 The durable lightweight Canadiana wheeled spinners come in three sizes – the 18-inch-high carry-on and the 24-and-28-inch-high check-in models.
The suggested retail price of the three-piece set is $350 or they can be purchased separately for $100, $130 and $170 respectively.
The Canadiana Collection is already for sale at Hudson's Bay and CAA stores and also available on those company's websites as well as Amazon.ca.
The Canadiana Collection has also been joined by a trio of other hard-sided three-piece sets in time for July 1st's 150th anniversary of confederation.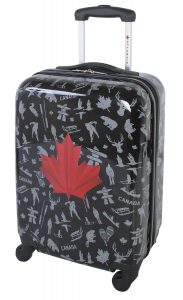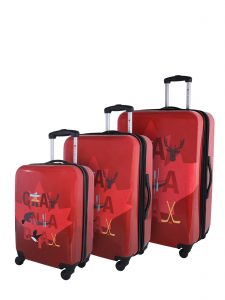 The Maple Leaf Collection features black cases with a big front-and-centre red maple leaf and Canadian icons scattered across the background.
The Iconic Collection is light red maple leaf on a darker red background and the Buffalo Plaid Collection is
red-and-black check with a maple leaf emblem.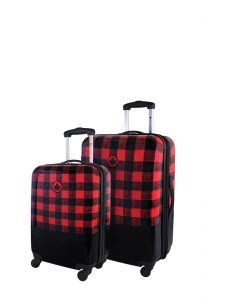 Atlantic Luggage is part of the Holiday Group, the maker of various brands, including Travelpro, which was founded in 1984 by the airline pilot who came up with the first rolling, vertical luggage known as the Rollaboard.